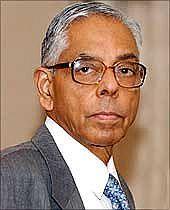 West Bengal Governor M K Narayanan on Friday demitted office and left for Chennai along with his wife Padmini.
Narayanan was given a guard of honour by the Kolkata Police's Mounted Police Division.
Many people gathered outside the Raj Bhavan gates as he talked to the staff who gave an emotional send-off to him.
Narayanan had taken over as West Bengal's 24th Governor on January 24, 2010.
The resignation of Narayanan as West Bengal Governor was accepted by President Pranab Mukherjee on Thursday and Bihar Governor D Y Patil was asked to hold additional charge of the post as interim arrangement.
Narayanan resigned on June 30, becoming the fourth Governor appointed during UPA rule to put in his papers after the NDA government prodded some of those Governors to quit.
Eighty-year-old Narayanan was recently questioned by CBI as a "witness" in the AgustaWestland VVIP helicopter deal probe.
Besides Narayanan, Nagaland Governor Ashwani Kumar, Uttar Pradesh Governor B L Joshi and Chhattisgarh Governor Shekhar Dutt have put in their papers since the new government took over at the Centre.