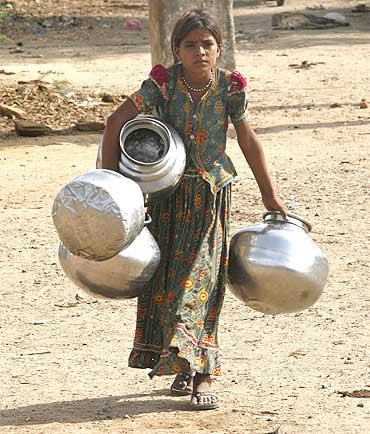 Water has always been a scarce, and consequently precious, commodity in Madhya Pradesh. But the recent deaths of five people -- in fights and disputes over water -- are a grim reminder of the water crisis plaguing the state.
On Saturday night, a person was killed at Dhakora in Rajgarh district following a clash over drawing of water from a local well.
Madhavlal Dangi, 60, died after being attacked with sharp weapons and stones. Preliminary inquiries revealed that Madhavlal and his nephews had a dispute over drawing water from a well by using a motor. He was reportedly attacked over the clashes, and lost his life.
This is not the first time that blood has been spilled over water. In Mau village of Bhind district, one Ramkali Jatav also lost her life in water-related violence. She was killed over a dispute about fetching water from a tube-well and her sons were also attacked.
Such incidents have also been reported from Indore, Ratlam and Raisen.
In Indore, Poonam Yadav, 16, was stabbed to death over a dispute about drawing water from a nearby tube well. After the incident, an alert has been sounded and police officials have been instructed to deploy adequate forces in areas facing severe water shortage.
But Minister for Urban Administration and Development Babulal Gaur refused to accept these as cases of water-related murders.
"I have reports from all these places. I don't think water problem is the only reason behind these murders. I am looking into these matters and in most cases, family feuds were the reason behind such murders," he said.
 
But the administration's apprehension over water-related violence is palpable. Inspector general of police (law and order) AK Soni said, "We have instructed all police officials to take precautions during water distribution in sensitive areas. They have also been asked to deploy policemen during water distribution through tankers."
The severe water crisis has resulted in residents of seven municipal corporations in the state, including Bhopal, Indore and Gwalior, receiving water supply every alternate day.
 
The situation in the rest of the state is worse: as many as 175 towns are receiving water supply only once in two or more days. Residents of 20 towns are getting water once in five days while water is being supplied once in four days in 43 towns.
There is no respite in sight for the parched locals. Water woes are set to worsen as the mercury soars further, and as many as 25 districts make do with half of the average rainfall.
Image: A girl carries empty metal pitchers to collect drinking water | Photograph: Amit Dave/Reuters