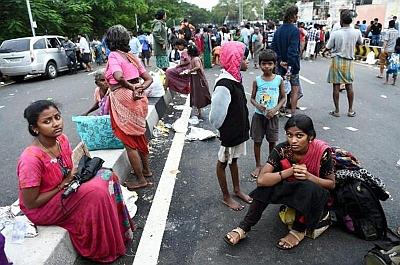 The National Disaster Response Force on Friday intensified its relief and rescue operations in the rain and flood-battered Chennai and its adjoining areas as it added 20 more teams for the job and rescued over 10,000 people till now.
Director General of the force, O P Singh, will also travel to the state to review the operations and effectively monitor these activities.
The DG said in New Delhi that his teams are expected to rescue and reach out to more number of people on Friday as the water has receded in some places and power has been restored.
"We have rescued more than 10,000 people till now. 20 more teams from various locations have been mobilised to Tamil Nadu and the total strength of the NDRF by tonight would be 50. We expect to have better results today as things have improved and rains have stopped over the last night," he said.
An official NDRF spokesperson said that by 1pm a total of 10,589 people were moved to safer places by the teams.
"Out of the 20 fresh teams being sent in, five have already taken position in Tamil Nadu," the spokesperson added.
The force already has 30 teams, with 40 personnel in each, working in the affected areas of the Tamil Nadu capital and adjoining Puducherry.
The unprecedented rains have killed 269 people till now even as Prime Minister Narendra Modi had on Thursday announced a
Rs 1,000 crore package for the flood-hit state.
A meeting of the Crisis Management Group was also held under the Chairmanship of Union Home Secretary Rajiv Mehrishi to review the preparedness of the agencies along with officials of ministries of defence, food, Railways, agriculture, health, Department of Telecommunications, National Disaster Management Authority, India Meteorological Department and the NDRF.
The NDRF has also pressed 131 inflatable and other kinds of boats and numerous sets of buoys and life jackets with the rescue and relief teams.
"The teams also distributed 1,400 food packets and 2,300 water packets in the areas of Manali, Kuttapuram and global health city," the spokesperson added.
The existing deployment of the NDRF units has been made in and around Chennai, Thiruvallur, Kanchipuram, Vellore and Cuddalore, apart from small batches of rescuers responding on a need basis to random areas.
The force, till now, had sent in over 830 life jackets, 520 life buoys and 25 deep diving sets along with 45 trained deep divers to assist the local administration in the humanitarian assistance and disaster relief work.
Two NDRF teams, out of the total working 30, are deployed in Puducherry for these tasks.
It has also activated helpline number at its control room here -- 011-24363260, 09711077372 and the Twitter handle '@NDRFHQ'.
As the Chennai airport is shut due to flood, the force is operating from the INS Rajali Naval airbase at Arakkonam, about 60 km from Chennai.