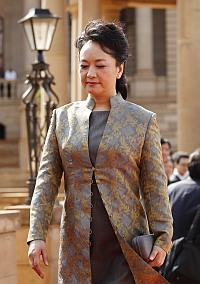 "Wife diplomacy", which has become focus of China's new leadership, would come into full play in India on Wednesday when Chinese Xi Jinping arrives in Ahemdabad along with his singer wife Peng Liyuan, who has become a fashion icon here.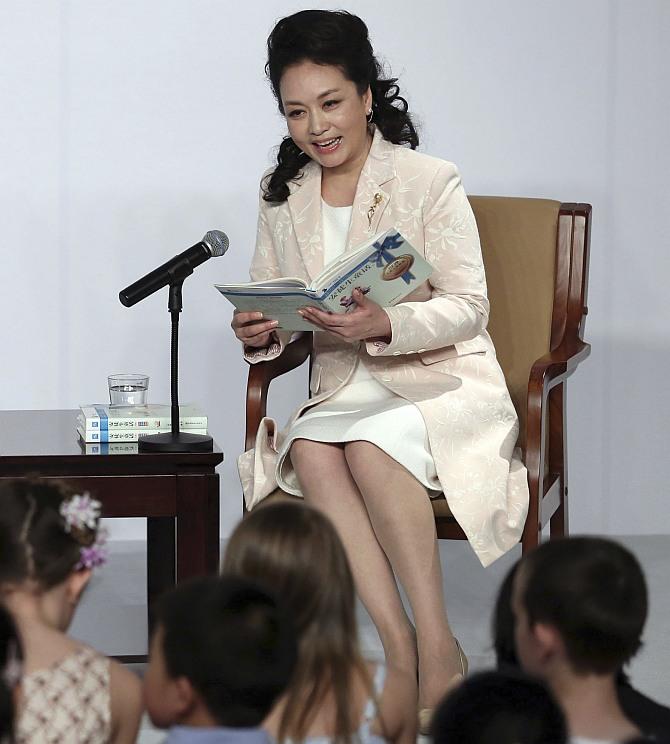 Image: Peng Liyuan, wife of China's President Xi Jinping, reads out fairy tales at a museum in Beijing. Photograph: China Daily/Reuters
Peng, 51, a well accomplished folk-singer and a household name in China for her television opera success has become part of Xi's diplomatic charm offensive in all his foreign visits making waves with her colourful attires and social calls on leaders' wives.

Chinese media follow her closely, highlighting her fashion sense and activities.

A big team of Chinese print and television media is already in Ahmedabad and New Delhi to cover Xi's programmes besides and big entourage of media which would accompany him.
Also Read: 10 things you must know about China's First Lady

Chinese officials say Peng symbolised modern China as she has become integral part of Xi's diplomatic tours bringing colour and substance unlike wives of previous Chinese leaders who were deliberately kept out of diplomatic engagements.

While officials are tight lipped about the programmes, she is expected to have some engagements lined up by top women Ministers of Prime Minister Narendra Modi's cabinet.

Officials say she could be taking part in children related activities besides visiting famous cultural and historic spots.

Xi will arrive in Ahemdabad on a three visit to India and later go to New Delhi.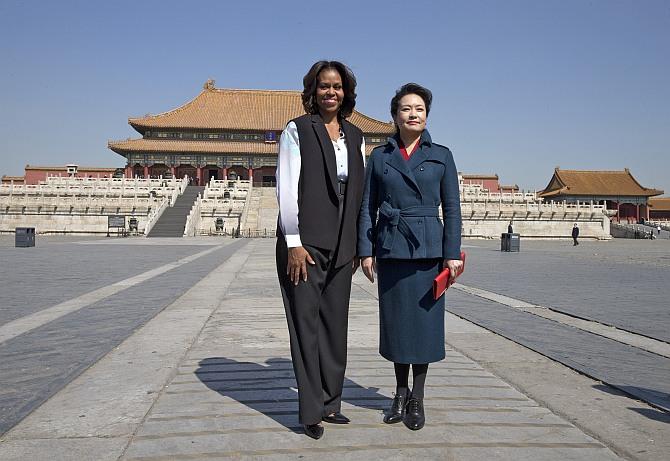 Image: US first lady Michelle Obama (left) and Peng Liyuan pose for a photograph during a visit to the Forbidden City in Beijing. Photograph: Andy Wong/Pool/Reuters
A famous personality on her own, well before she married Xi, Peng hosted Michelle Obama and her family for a week-long tour of China to promote good US-China ties early this year.

Whenever she is out on tours with her husband, she made waves in social media with her variety of dresses designed by famous Chinese fashion designers.

Commenting on "Wife diplomacy", Zhouli Jiali, Lecturer with the department of diplomacy and foreign affairs said wives of senior officials often attend activities on the topics of women, children and charity during foreign visits, which is helpful to fully show country's national image.

It contributes to public diplomacy which aims to increase soft power and gain a reputation for a country in the international community, he said.