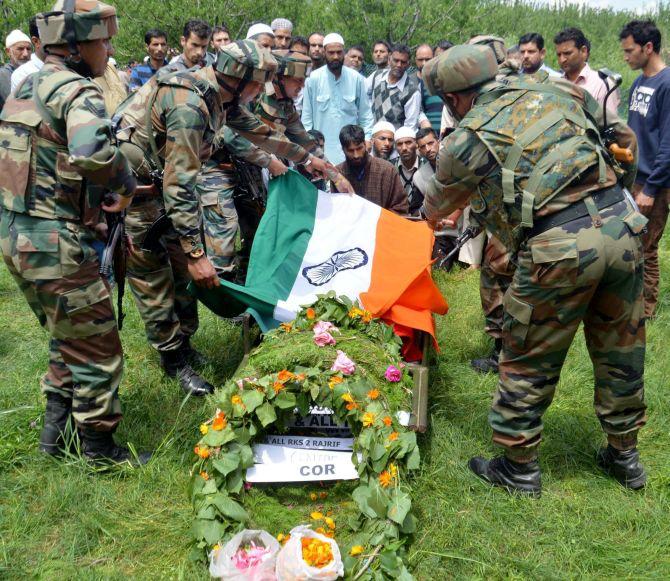 Six terrorists from Lashkar-e-Tayyaba and Hizbul Mujahideen were involved in the abduction and killing of a young Army officer in Shopian district of Kashmir and a massive manhunt has been launched to catch them, defence sources said on Thursday.
The bullet-riddled body of 22-year-old Lieutenant Ummer Fayaz from Kashmir was found in Harmen area of Shopian on Wednesday morning, hours after he was abducted by terrorists from Batpura village.
"We have identified six militants who were involved in the killing of Fayaz. The terrorists are from Lashkar-e-Tayyaba and Hizbul Mujahideen," a source said.
Security forces are carrying out searches in various areas to nab the six terrorists, the source said.
Fayaz, son of a farmer and an avid sportsman, had gone to attend the wedding of the daughter of his maternal uncle at Batapura, about 74 km from Srinagar, from where he was abducted by the militants around 10 pm on Tuesday night.
On his first leave since joining the Army, he was posted with 2 Rajputana Rifles in Akhnoor in Jammu region. His killing has triggered anger among the locals who demanded action against the culprits.
The Army had on Wednesday vowed to punish the killers of Fayaz and said the incident marks a watershed moment in Kashmir Valley as people there will decisively turn the tide against terrorism.
Calling the attack a 'dastardly act of cowardice' by terrorists, Defence Minister Arun Jaitley had said Fayaz's sacrifice reiterates the nation's commitment to eliminate terrorism from the valley.
Earlier in the day, the Jammu and Kashmir police had said that terrorists belonging to Hizbul Mujahideen may have killed Lt Fayaz and an INSAS rifle snatched from cops could have been used in the crime.
A senior police official also said that Fayaz's body did not bear any torture marks while adding that the post-mortem report is awaited.
"We have conducted preliminary investigations. It does point out to (the involvement of) a module of Hizbul Mujahideen active in Shopian," Inspector General of Police Kashmir S J M Gillani said.
Police has found two empty cartridges of an INSAS rifle at the place where Fayaz was shot dead by the terrorists in Shopian.
"We had two incidents of weapon-snatching in south Kashmir recently. We have leads that the Kulgam snatching was carried out by Lashkar terrorists while Hizb militants were involved in weapon-snatching at Shopian court complex (on May 2). So it could be one of those weapons," he said.
Gillani said the post-mortem report was awaited but added that there were no torture marks on Fayaz's body.
"The doctors and police officers who examined the body did not find any torture marks," he said.
Image: Army personnel paying tribute to the slain army officer Lt Ummer Fayyaz during his funeral at his native village Sudsona in Kulgam district. Photograph: PTI Photo