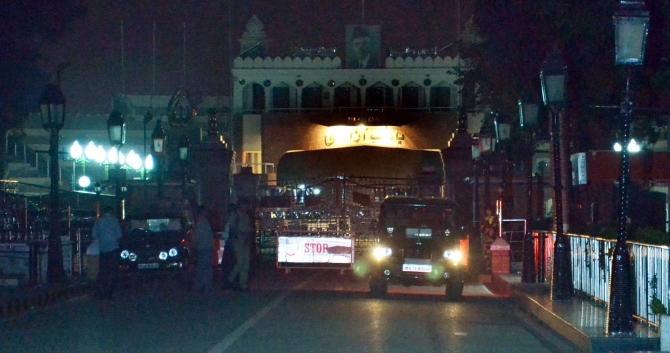 The International Indo-Pak, Attari border closed after bomb blast at Wagah (on the Pakistan side). Photograph: Shiva Sharma/Reuters.
Hours after cancelling the beating retreat ceremony at Wagah following a deadly suicide attack, Pakistan on Monday allowed general public to view the popular flag-lowering ceremony at the Indo-Pak border.
"We have decided ina meeting on Monday afternoon to allow the general public to come and watch the flag-lowering ceremony," Punjab Rangers spokesman Maj Shahid Abbas said
"Since we have cleared off the blast site after collecting the forensic evidence, there was no point in closing the Parade Avenue for the public," he told PTI. Earlier, India had said that at the request of Pakistan Rangers, there will be no beating retreat ceremony at Wagah Border for three days from on Monday.
Officials said the changed plan to allow the ceremony had been communicated to the Border Security Force by the Rangers. Meanwhile, security was beefed up by adding another tier over a kilometre from the main entrance to the Parade Avenue.
The parking area has also been designated far away from the main entrance due to security concerns. "We have beefed up the security for the people's sake," Maj Abbas said
At least 61 people were killed and nearly 200 injured when a suicide attacker detonated a powerful bomb at Wagah in Pakistan on Sunday, minutes after the popular flag-lowering ceremony at the main Indo-Pak land border crossing.