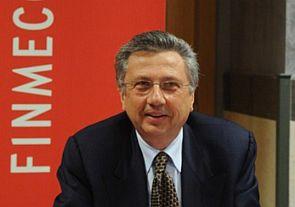 Former Finmeccanica CEO Giuseppe Orsi, who faces an 'instant trial' in June over allegations of corruption in the Rs 3,600 crore VVIP chopper deal with India, was on Saturday released from jail.
Orsi was released after about 80 days in pre-trial detention, Italian media reports said.
A judge in the northern Italian town of Busto Arsizio had on Friday granted a prosecutor's request for the instant trial, which eliminates preliminary hearings.
The trial against Orsi and CEO of its helicopter unit Agusta Westland Bruno Spagnoli would begin from June 19.
Orsi and Spagnolini are suspected of corruption in relation to bribes allegedly paid to secure a contract to sell 12 Agusta Westland helicopters to India.
Orsi, who resigned from the Italian state-controlled defence giant Finmeccanica a few days after his arrest, denies any wrongdoing.
He was released on Saturday because the terms that allowed prosecutors to keep him in custody ahead of a trial had expired.
The Indian Defence Ministry has ordered a CBI probe into the allegations of kickbacks to the tune of Rs 362 crore after the arrest of Orsi and Spagnolini by Italian investigators in connection with the case.


Orsi was at the helm of Augusta Westland when the deal was struck and he is suspected of involvement in the payment of bribes.
Prosecutors suspect that around 50 million Euro (Rs 362 crore approximately), about 10 per cent of the deal, were ploughed back into kickbacks to ensure Agusta Westland won the contract.
In February 2010, India had inked the deal to acquire the 12 three-engine AW-101 helicopters from Agusta Westland for VVIP use.