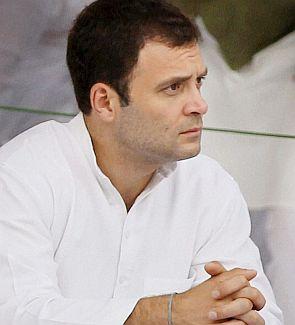 Congress vice-president Rahul Gandhi on Monday agreed to be questioned on Times Now's Frankly Speaking host Arnab Goswami on his first-ever formal television interview.
Appearing a little nervous, Rahul skirted around many questions, ranging from his views on Congress' prime ministerial candidate, Gujarat Chief Minister Narendra Modi, the Gujarat and 1984 riots, the RTI Bill, the Adarsh scam and corruption within his own party and price rise.
On being asked about why the Congress was blaming Modi for the 2002 Gujarat riots after the special investigation team and the courts had given him a clean chit, Rahul's answer was somewhat hazy.
"The riots took place, people died and Mr Narendra Modi was in charge of Gujarat at that point". Rahul later said that his party is essentially fighting an ideological battle with the BJP.
AAM Aadmi Party convenor Arvind Kejriwal or Modi, Rahul refused to be drawn into a discussion on personalities. He even made a faux pas, and called former Maharashtra Chief Minister Ashok Chavan Ashok Kumar.
When asked about tying up with Rashtriya Janata Dal supremo Lalu Prasad Yadav, Rahul said that the Congress is joining hands with parties on their views and it was not an alliance with an individual.
Were you convinced by Rahul's views? Tell us!