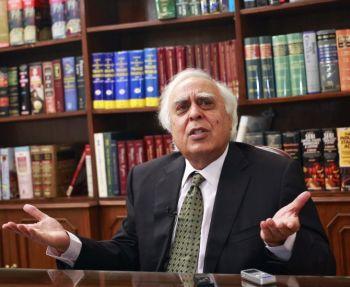 Law Minister Kapil Sibal on Friday launched a scathing attack on Bharatiya Janata Party saying the party which indulges in "doublespeak" on corruption cannot question the prime minister on the issue as the UPA has taken graft head on and its ministers have resigned on "mere" allegations.
"You look at BJP. They have embraced (former Karnataka chief minister) B S Yeddyurappa yesterday. Now what does Yeddyurappa stand for? 'Yeddyuruption' is a new form of corruption," he told reporters in New Delhi.
"There has never been a scandal like this in the history of India as there has been in way in which iron ore and mines were exploited for personal ends. This very party which talks about corruption, which attacks the prime minister, have embraced him," he said.
He was responding to questions on BJP's claim that prime minister Manmohan Singh was 'soft' on talking about corruption in his press conference this morning.
He said BJP agreed to take back Yeddyurappa back into its fold for "political ends. Because they realise that they will be wiped out in Karnataka".
"So, when it comes to them corruption is not an issue. When it comes to our Prime Minister who has actually had ministers in his government resign even on mere allegations and they attack him by saying he is not dealing with corruption or that he is soft on corruption."
He said contrary to BJP's claim, UPA is the only government that has actually dealt with issues head on. It was the one which finally got the Lokpal Bill passed in Parliament.
"Please ask Mr Narendra Modi why he has taken 12 years? Why did he not allow a Lokayukta Act to be passed? And they talk about transparency, they talk about dealing with corruption. And he has never talked about it," he said. Sibal also questioned why the Gujarat Lokayukta Act is not consistent with the Lokpal bill.
"What prevented Modi or the BJP to have a Lokpal kind of Lokayukta in Gujarat much before Parliament passed the bill?"
He said the BJP "doublespeak on corruption is something we need to admire, because they get away with it. They embrace corruption and get away with it. Because they are loud and of course you (media) give them a lot of mileage."
Responding to a question on BJP attacking the PM for terming Modi as "disastrous", Sibal said it is BJP leader Arun Jaitley who must watch his language.
"The kind of language he has used against our Prime Minister over the years is something that most parliamentarians who have some grounding in the nature of politics in India would not use.
"The kind of language Mr Modi and BJP have used against our Prime Minister in fact is far more uncivilised than the word disastrous the PM has used for Mr Modi," he said.
He also said the BJP cannot question the 'dual structure of Congress party and UPA government.
"There is a dual structure within the BJP. When Nagpur (RSS headquarters) tells them what to do, they do it. Nagpur has told them to have Modi as PM candidate. I mean Sushma would love to be the Prime Minister. And Jaitley, he must have been excited before Modi was named. But it is Nagpur which decided. Who are they to talk about our political party and our government," he asked.
Image: Union minister Kapil Sibal
Photograph: Reuters