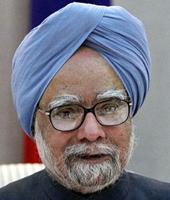 Prime Minister Manmohan Singh recently refused to comment on whether he would consider standing for a third term as the Congress Party's prime ministerial candidate.
While replying to a query by Rediff.com, Dr Singh neither ruled out the possibility nor gave any indication of his availability or willingness to become a contender for the top post.
Read the PM's reply right here!
His comments come in the wake of several senior Congress leaders openly stating that Congress vice president Rahul Gandhi should be the party's prime ministerial candidate in the next general election.
Do you, our dear readers, think that Dr Singh should get a third term as India's prime minister?
Let us know your opinion by VOTING for or against Dr Singh's candidature for the top post for a third time.