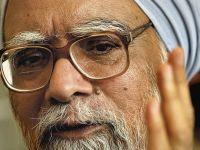 Manmohan Singh neither rules out nor gives any indication of his availability and willingness for a third term as prime minister.
Would Prime Minister Manmohan Singh accept a request to stand for a third term as the Congress party's prime ministerial candidate if Congress President Sonia Gandhi and his party requested him to do so?
To this, the prime minister neither ruled out the possibility nor gave any indication of his availability or willingness in his media interaction on board the special Boeing 747 ferrying Dr Singh and his delegation back from the BRICS summit in South Africa.
In response to Rediff.com's question, Dr Singh said, "These are hypothetical questions. We will cross that bridge when we reach there."
Congress General Secretary Digvijay Singh recently spoke about the failure of the 'two centres of power' (meaning Sonia Gandhi and Dr Singh) in the ruling United Progressive Alliance and suggested that party Vice-President Rahul Gandhi is the Congress's only choice for the prime minister's post at the next general election.
Digvijay Singh's controversial statement is the result of intense speculation on how the Congress party will respond when a general election approaches and the Bharatiya Janata Party announces its prime ministerial candidate.
In the personality-driven world of Indian politics it is necessary to have clarity on a political party's prime ministerial candidate. Speculation is rife -- that like his mother -- Rahul Gandhi too will select a Dr Singh-like figure as his proxy for the prime ministership.
After the party's Chintan Shivir in Jaipur where he took over as the Congress vice-president, Rahul Gandhi is seen as a reluctant leader who lacks the killer instinct.
Digvijay Singh's statement suggests that many Congress leaders are becoming ambitious due to speculation in the party that Rahul Gandhi will never be pitted against Narendra Modi, the Gujarat chief minister and presumptive BJP candidate for prime minister.
If Modi is lucky to get the Sangh Parivar's endorsement, the Congress will be under pressure to declare its prime ministerial candidate.
Dr Singh, who turned 80 last September 26, is slowing down due to age, but his combative power has not diminished.
Nationalist Congress Party President Sharad Pawar recently included Dr Singh in the prime ministerial race after the next election.
On Thursday, aboard Air India One, Dr Singh was asked: "You are going to complete nearly a decade as prime minister -- a long innings in public life. Many other world leaders have gone on to accomplish a lot more after 80. Do you still have the drive, the energy and the motivation to contribute to public life?"
Dr Singh, again, played it safe.
"I have tried my very best to serve this country with all sincerity, with all dedication. Whether I have succeeded or not, it is for the public at large -- the people of India -- to judge."
Photograph: Reuters