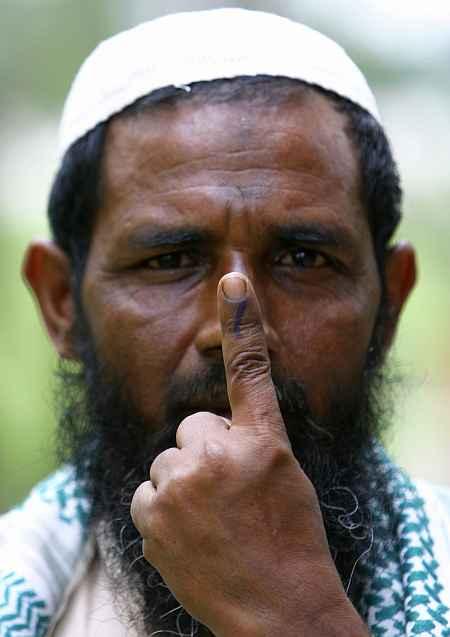 Stoking a controversy, the Shiv Sena on Sunday demanded that voting rights of Muslims should be revoked as the community has often been used to play vote bank politics.
The Sena also compared All India Majlis-e-Ittihadul-Muslimeen and Owaisi brothers with "poisonous snakes" who spew venom to "exploit" the minority community.
"Vote bank politics is being played in the name of fighting against the injustice meted out to Muslims. Their educational and health status is being used politically. This politics was once played by the Congress and now every other person calls himself secular.
"If Muslims are only being used this way to play politics, then they can never develop. Muslims will have no future till they are used to play vote bank politics and thus Balasaheb had once said to withdraw Muslims voting rights. What he said is right," an editorial in Sena mouthpiece 'Saamana' said on Sunday.
The "secular masks" of all the so-called secular political parties will be worn out, once their voting rights are withdrawn, it said.
Taking a dig at AIMIM MP Asaduddin Owaisi for challenging Sena president Uddhav Thackeray to come to Hyderabad, the editorial said, "Owaisi dares us to come to Hyderabad. But we want to ask him if Hyderabad is in India or in Lahore, Karachi or Peshawar. The pride of Marathis is known in Pakistan, Afghanistan and Kandahar as well."
"By saving the hiding place of snakes, you cannot kill them. Owaisi and his party are like a snake which, if fed, will do no good to the nation. AIMIM is an old snake," it said.
Justifying the editorial, Shiv Sena leader Sanjay Raut, who is 'Saamana' editor, said it reflected what was stated by Balasaheb Thackeray 15 years ago that for social progress if you take away the voting rights of Muslim community for a few years, then the 'ownership' of Muslim votes by some leaders will end and all such leaders will face ground reality.
He added that till the time Muslim vote bank politics continues, "there will be instability in the country".
"Neither the country nor Muslims have moved forward. This vote bank politics has always tried to keep the Muslims away from the mainstream...Till the time the ownership of votebank politics will continue with some people, the Muslim community will not benefit nor will they progress.
"Today, the way Owaisi brothers are trying to spread venom all over the country, I remembered Balasaheb," he said, adding that only leaders who did votebank politics have progressed in this country and not the community as such.
He said at the time when Pakistan was formed, there were leaders like Jinnah then who did vote bank politics of the community and now people like Owaisi are doing so. He also cited examples of Mulayam Singh Yadav and Lalu Prasad doing similar votebank politics of Muslims in Uttar Pradesh and Bihar, besides Abu Azmi and Mukhtar Ansari.
The editorial triggered a political storm with several parties accusing Sena of trying to inflame passions and divide people.
Under attack, the Shiv Sena later sought to downplay the issue, contending that the party is against "appeasement politics".
"The (Saamana) article tries to say that to achieve development in every sphere of life, the politics of appeasement being done by a section of leaders needs to be done away with as it is not in the interest of Muslims. These people are only misguiding the community without really helping them," Sena MLC and spokesperson Neelam Gorhe said.
"The article doesn't want Muslims' voting rights to be taken away, but it is not right for people like (AIMIM leader Asaduddin) Owaisi to nurture the deprived feelings of Muslims. They have been deprived of overall development and are being used and misguided for personal benefits. He (Sena MP and Saamana editor Sanjay Raut) is opposing this appeasement politics," Gorhe said.
The article should be looked at from an "overall perspective" and should not be misinterpreted as being against the Muslim community, she said.
"There are people from all castes working in the Shiv Sena. All of us have been against the vicious politics being played in the name of Muslims against the Muslims," she said.
In recent times, there have been changes in laws for Hindu women due to the struggle of people like Babasaheb Ambedkar and an overall development of the democratic nation, Gorhe said.
"Muslim women have been deprived of that as well. When I look at the issue as a woman politician, I feel that instead of bringing women under the laws related to gender bias, these laws should be changed.
"Some sections of people say that women should only go by shariah, their freedom should not be curtailed. We don't want to impose Hindu laws on Muslim women, but there is still a need to do away with laws like bigamy, child marriages, fatwas, etc, as they violate the fundamental rights of women," Gorhe said.