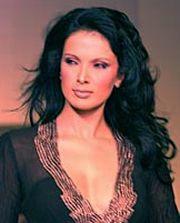 Supermodel Viveka Babajee was in a relationship with stock analyst Gautam Vora and the two were contemplating marriage before she committed suicide, her family claimed on Thursday and said they were mulling pressing of abetment to suicide charge against him.
Breaking their silence since Babajee's suicide on June 25, her family also denied the former Miss Mauritius was suffering from depression and said they would weigh the option of pressing abetment to suicide charge against Vora if investigation pointed in that direction.
Though the family personally avoided the media, its representative Dale Bhagwegar read out the statement of her mother Dayawanti Babajee that said she does not agree with the depression theory put forth in the media.
Bhagwegar attributed their absence to the family's "sadness and pain" and their being unaccustomed to "media frenzy and attention" after the tragic death of Babajee and their preoccupation with performing her last rites.
Describing her daughter as a "courageous person and a go-getter" who was "independent-minded and had leadership qualities", Dayawanti said Viveka and Gautam were indeed going around and were contemplating marriage.
The statement said Babajee, a former Miss Mauritius, had once made Vora, whom she described as a "soft-spoken and kind person" speak to her mother over phone.
Babajee, the statement claimed, had informed her mother that Vora had proposed to her and asked her to see a doctor to ascertain if she could bear him children.
She also conveyed to her mother that their horoscopes had matched and they were considering marriage.
"Viveka never discussed any bad or negative thing about Vora with her mother and described him as caring, kind and soft-spoken person who took great care of her.
At no point of time, she conveyed an impression to her mother that she was depressed," Bhagwegar said.
The family's representative claimed that two days before she ended her life, Babajee had sent an SMS to her mother after a shoot and appeared cheerful. He said the exchanges made through Babajee's Facebook account on several days preceding her suicide too reflected her cheerful and positive outlook.
"Her mother is surprised and confused that her daughter could take such a step."
Asked if her two broken relationships with Rohit Jugraj and Karthik Jobanputra could have driven her to suicide, Bhagwegar replied in the negative, saying, "Rohit and Karthik were Viveka's past and Gautam was her present."
During his questioning by the police, Vora reportedly said Babajee was suffering from acute depression after her split with Jobanputra, also her business partner.
On reports that Babajee had earlier attempted suicide by crashing her car into a wall, he said he was not aware of any such incident.
Replying to a question about the heated argument that Babajee reportedly had with Vora at her Continental Towers apartment on the night of June 24, Bhagwegar said the police had spoken to the family in this regard and "taken some details".
Babajee's family lives in Mauritius and came to Mumbai after her death. The fashion model stayed in a rented apartment in suburban Bandra alone.
About whether the family would ask the police to take the line mentioned by Babajee in her diary where she wrote that "you killed me, Gautam" as evidence of abetment to suicide, he said "it is for the police to decide".
On why the family had not given a statement to the police about their suspicion of Vora having abetted the super model's suicide, he said, "The family is in grief. If the police ask them, they will give a statement."
Bhagwegar said the family was planning to take printouts of the emails Babajee had exchanged with Vora, Karthik and Rohit and hand them over to the concerned authorities.
"The family is consulting lawyer Zulfi Memon... depending upon the investigation, if legal action is needed, definitely legal action will be considered," he said in reply to a question if the Babajee family will press abetment to suicide charge against Vora.
Image: Viveka Babajee