Facing criticism over his recent visit to Pakistan to attend the swearing-in ceremony of Imran Khan as prime minister, Punjab cabinet minister Navjot Singh Sidhu said on Tuesday that it was not a 'political' visit but a response to a 'warm invitation from a friend'.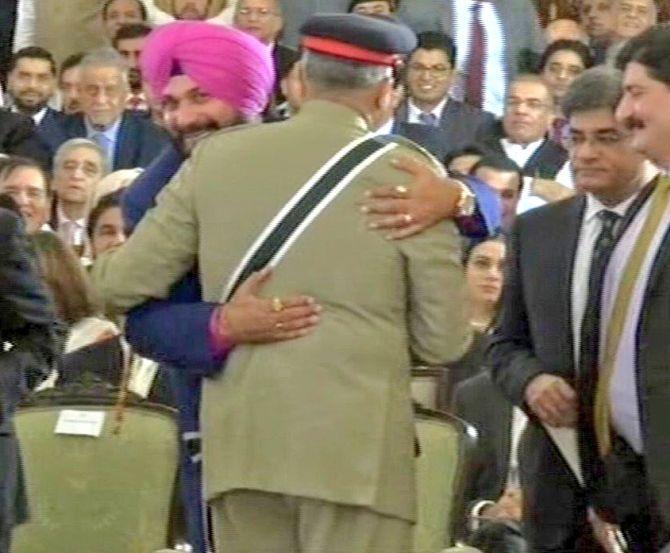 The cricketer-turned-politician said he hugged the Pakistan Army chief in an 'emotional' moment, when General Qamar Javed Bajwa told him that they were making efforts to open the corridor from India's Dera Baba Nanak to the Sikh shrine of Kartarpur Sahib.
Sidhu has been slammed by the opposition and earned displeasure even from his Chief Minister Amarinder Singh for hugging Gen Bajwa.
The Punjab minister attended the swearing-in ceremony of his friend and former Cricketer, Imran Khan, as the Prime Minister of Pakistan in Islamabad on August 18.
"My brief visit to Pakistan has emerged (as) a big talking point. In this regard, I would definitely like to clear certain things. The visit to Pakistan was not political in any way but just a warm invitation from a friend (Imran Khan).
"That friend, who went through immense hard work and struggle in life. The one, who reached a position, which is respected and holds capability of changing fate of crores of people," he said in his opening statement during a press conference in Chandigarh.
On his meeting with the Pakistan Army chief, Sidhu said, "I again want to make it clear that this meeting took place in Islamabad at a time when Gen Bajwa reached the venue of swearing-in ceremony."
"He met me with enthusiasm after seeing me sitting in the first row. Immediately, he told me that they were making efforts to open the corridor from India's Dera Baba Nanak to Kartarpur Sahib, which is about 3 to 3.5 km in Pakistan, to facilitate the pilgrims to pay obeisance on the occasion of 550th 'Prakash Diwas' of Guru Nanak Dev ji."
The Congress leader claimed that crores of pilgrims have been waiting to pay obeisance at holy Kartarpur Sahib, the place where Guru Nanak Devi ji spent nearly 18 years of his life.
"Without a thought, this thing said by Gen Bajwa was an emotional moment for me and the result (the hug) was for everyone to see. After that brief meeting in the gathering, I had no meeting with Gen Bajwa," he said.
Sidhu said, he, however, is disappointed and hurt over the criticism over this sudden meeting and 'emotional reaction'.
Sidhu has been slammed by the opposition Bharatiya Janata Party and the Akali Dl for hugging Gen Bajwa and even Punjab Chief Minister Amarinder Singh did not back his cabinet colleague on this issue.
"I think that was wrong for him to have shown affection he did for the Pakistani Army chief," Amarinder Singh had told reporters in Chandigarh earlier.
Meanwhile, Sidhu also said if India and Pakistan can settle their differences through talks, become good neighbours and increase mutual exchanges in trade and other aspects, then it will be a great hope and message for South Asia.
On Imran Khan, who was captain of the Pakistan cricket team when it lifted the World Cup in 1992, Sidhu said, he is 'a friend, who can work for healthy relations with its neighbouring nation. The one, who can play a role in bringing relief to the long standing tension between the two nations'.
Those who are targeting Sidhu are doing great disservice to peace: Imran
Pakistan Prime Minister Imran Khan has come out in support of Navjot Singh Sidhu, saying those who are criticising the Punjab minister are doing a great disservice to peace in the subcontinent.
"I want to thank Sidhu for coming to Pakistan for my oath taking. He was an ambassador of peace and was given amazing love and affection by people of Pakistan," Khan tweeted soon after Sidhu's press conference.
"Those in India who targeted him are doing a great disservice to peace in the subcontinent - without peace our people cannot progress," Khan said.
To move forward, Khan said Pakistan and India must engage in dialogue and resolve their conflicts, including the Kashmir issue.
"The best way to alleviate poverty and uplift the people of the subcontinent is to resolve our differences through dialogue and start trading," he said.