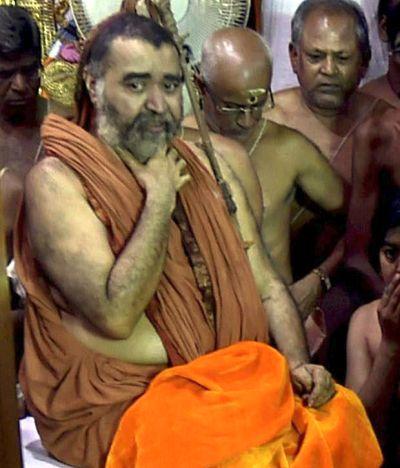 Sri Vijayendra Saraswathi, who was the junior pontiff of the Kanchi Mutt, has assumed charge as its chief consequent to the passing away of 69th head Shankaracharya Jayendra Saraswathi, the mutt said on Friday.
After the passing away of the 69th pontiff, Jayendra Saraswathi on February 28, "Sri Sankara Vijayendra Saraswathi Swamigal has started to perform the duties of the 'peetadhipati' of Sri Kanchi Kamakotti Peetam," the Mutt said in a release.
A mutt official said Vijayendra Saraswathi assuming charge has been communicated to the Hindu Religious and Charitable Endowments Department of the Tamil Nadu government as well.
Vijayendra Saraswathi, 48, had become the 70th acharya of the Kanchi Kamakoti Peetam on May 29, 1983.
Jayendra Saraswathi passed away following a cardiac arrest Kanchipuram aged 82.
He had succeeded 68th head Sri Chandrasekarendra Saraswathi, hailed as 'Maha Swami' by his devotees.
Photograph: PTI Photo