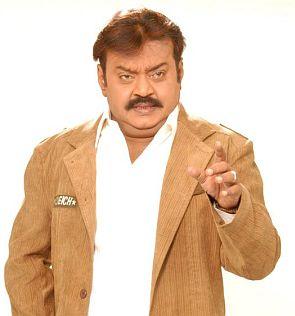 Desiya Murpokku Dravida Kazhagam chief Vijayakant has expelled ten party functionaries, including three MLAs, who questioned party's decision to align with People's Welfare Front.
Ten senior DMDK functionaries on Tuesday raised a banner of revolt against the party high command's decision to align with the PWF for the May 16 assembly polls, virtually giving an ultimatum to Vijayakanth to reverse his decision by noon on Wednesday.
The rebel leaders included party's whip in Tamil Nadu assembly V C Chandrakumar, MLAs C H Sekar and S R Parthipan, besides seven others.
They displayed before reporters 'a letter to Vijayakanth' dated March 24, questioning his logic behind aligning with the PWF.
"The decision was not taken in line with the aspirations of party functionaries, workers and people whose sole motive is to throw out the Jayalalithaa government, and this is possible only by aligning with the DMK (Dravida Munnetra Kazhagam)," Chandrakumar said.
"The decision to align with the PWF is against the wishes of 95 per cent of party workers and functionaries who favour a tie-up with the DMK," he said.
Chandrakumar, representing Erode (East) in the Tamil Nadu assembly, said they were never given an audience by Vijayakanth to discuss the matter after he firmed up the alliance with PWF on March 23 and said the decision had been taken by the actor politician and his wife Premalatha 'at their house'.
"The decision has been taken by Captain (Vijayakanth, as he is addressed by supporters) and Premalatha at their house whereas we have been moving at the grassroots level where supporters and people want the DMDK to align with the DMK," he claimed.
Chandrakumar said they continued to be in the DMDK and had come out in the open only after having exhausted all other avenues to reach Vijayakanth.
Responding to a question, he denied that DMK or its treasurer M K Stalin, who had said that the DMDK will weaken itself, had anything to do with them coming out in the open today.
Recalling his association with Vijayakanth since his days in acting in the early 1980s, as a member of the actor's welfare club, Chandrakumar said he and the others were part of building the party and assured their loyalty to their 'Captain'.
He exuded confidence that the DMK will win the coming elections and its president M Karunanidhi will become chief minister irrespective of whether the DMDK aligned with it or not.
Asked if Premalatha and her brother L Sutheesh had a firm say in the DMDK aligning with the PWF, Chandrakumar reiterated that the 'decision was taken at home' but did not elaborate.
Breaking his suspense in the face of actively being wooed by DMK and BJP, Vijayakanth on March 23, firmed up an alliance with the PWF, and earned the lion's share of 124 of the 234 seats. Vijayakanth was declared the chief ministerial candidate of the DMDK-PWF alliance.