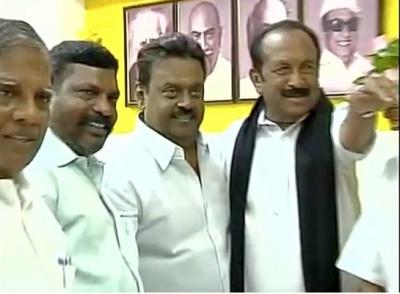 Springing a surprise, Vijayakanth-led Desiya Murpokku Dravida Kazhagam on Wednesday struck an alliance with the four-party People's Welfare Front for the May 16 Assembly elections in Tamil Nadu with the actor-turned-politician being declared as the chief ministerial candidate of the alliance.
As per the agreement reached between these parties, the DMDK will contest 124 seats and the remaining 110 will be shared by PWF constituents -- Marumalarchi Dravida Munnetra Kazhagam, Communist Party of India-Marxist, the Communist Party of India and the Viduthalai Chiruthaigal Katchi.
The breakthrough came after Vijayakanth, who recently declared that his party would go it alone in the polls, held talks with leaders of PWF, led by MDMK's Vaiko. The seat-sharing agreement signed by Vijayakant, Vaiko, G Ramakrishnan (CPI-M), R Mutharasan (CPI) and Thol Thirumavalavan (VCK) was released to the media.
The agreement also said Vijayakanth would be the chief ministerial candidate of the alliance. The move is considered a setback for DMK which had hoped to rope in all key anti-AIADMK forces under its leadership and made sustained efforts to bring in Vijayakanth.
Vijayakanth, whose party is believed to have a committed vote bank, was also wooed by the Bharatiya Janata Party. The saffron party on its part had tried to build on the gains it had made in 2014 Lok Sabha polls when the National Democratic Alliance won two seats by sewing up a rainbow alliance comprising DMDK, PMK, MDMK and four other smaller parties.
The BJP, which has firmed up support of smaller parties such as the All India Samathuva Makkal Katchi, may now try to rope in PMK. Tamil Nadu is set to witness a multi-cornered contest among the fronts led by the All India Dravida Munetra Kazhagam, the Dravida Munetra Kazhagam, DMDK-PWF, the BJP and the PMK.
Vijayakanth and Vaiko later said "it will be a coalition government" if the PWF-DMDK combine was voted to power. Addressing a joint press conference, Vaiko heaped praise on Vijayakanth and said their combine would henceforth be named "Captain Vijayakanth Front."
"You (Vijayakanth) will be the king, kingmakers (PWF leaders) will make you the king," he said. Likening Vijayakanth to Yudhistra of 'Mahabharat', he said, "Bheema, Arjuna, Nakul and Sahadeva (reference to four PWF leaders) will not allow others to get near him and they would take on rivals first."
Vaiko, the coordinator of PWF, said he would be the "Senapathi (commander) of the PWF-DMDK forces" that would take on AIADMK and DMK.
He said,"this is the alliance expected by the people, this is a great front that would usher in change and be victorious."
Thirumavalavan, Ramakrishnan and Mutharasan too praised Vijayakanth and said their combine would emerge victorious.