Dinesh Thakur is a veteran actor and director who heads theatre group Ank Production. He has done many of Vijay Tendulkar's plays. He speaks of the playwright who passed away on Monday.

 

I first met Vijay Tendulakar in 1981 when he was working on Jat Hi Puchho Sadhu Ki. We have been friends for 27 years. I have acted in most of his plays like Kamala, Kanyadaan, Anji and Hath Teri Kismat. I have done about 2,000 shows of his plays.

 

I remember in 1984, I was directing his play Anji. Priya (Vijay Tendulkar's daughter) was playing the lead character. One day, I got a note from Vijay Tendulkar saying that when you have an accomplished actor like Meenakshi (Dinesh Thakur's first wife) in your home, why are you taking Priya, who is not mature enough to do this role?

 

I was adamant that we would do Anji with Priya. After three months of rehearsals, Vijay Tendulkar told me not to do the play. But he agreed in 1985 after Priya became popular in the television serial Rajni.

 

When we started perfroming Anji, Vijay Tendulkar attended the show just to see how his daughter performed. Normally he did not like to see his own plays. But one best thing about doing Anji was he would send his suggestions on a piece of paper every time he felt like after listening to his daughters (Priya and Sushma) speaking about the play.

 

Anji was about a 39-year-old girl who is not yet married by her family as she is an earning member. Her younger sisters are married. Nobody is aware of needs. Therefore Anji takes a decision and starts looking for a groom by herself.

 

In his plays,

the women characters played very strong and different role. After doing the play we would get lot of satisfaction because I know literature cannot bring change in the society but at least it can make people aware of the problems around. We have done over 1,000 shows of Kamala. He is playwright of the millennium.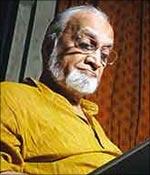 In the last six to seven years he did not write a single play. Whatever he gave to other directors were his old unpublished works that he updated and revived. He was always with the times. Therefore we still continue to do two of his plays Safar and Hath Teri Kismat.
Even though he was a writer himself he would encourage new writers. He once told me to do a play of writer Shirish Atawale's Mitra, which he thought was very good. He would never think that this would cause him any loss.
He would often visit the theatre to see the work of new talent but since his health had started failing he couldn't sit for a long time.
There was once misunderstanding between us and he fired me. I stopped doing his plays. But in 1988 after receiving a greeting card from me, he gave me a call and said he wants to come over and meet me. It was our first meeting after our professional break up and we spoke a lot and everything got resolved.
And we again started plays. In 2001, we celebrated as Tendulkar year. We did his plays, we did a book exhibition of his works and seminars. His passing has created a loss to the theatre and literature field but he also gave chance to new talent which will do well in future.
From 1962-72 was the golden era of theatre as we had one big writer in every state and all works being translated. Among Marathi writers it was Vijay Tendulkar. We hope that such an era returns.
I remember Priya Tendulkar always carried the Rs 100 note that her father gave her for her first play.