Home > India > Movies > Bollywood News

'We never understood Vijay Tendulkar'

May 19, 2008 17:12 IST


| | |
| --- | --- |
| Santosh Ayachit | |
| | |
| | |
| | |
| | |
| | |
| | |
Executive producer of ETV, Santosh Ayachit has been an ardent fan of noted playwright Vijay Tendulkar. He even made a Hindi documentary called Aankahi Tendulkar to celebrate the talent. In the documentary, Tendulkar had spoken on many subjects apart from his literary contribution.
He pays tribute to Tendulkar, who passed away this morning.
I visited Vijay sir only yesterday, and stayed with him until 6 pm. I didn't think that he would leave us so suddenly. Quite a few television channels have contacted me for my short film on him; they're even willing to pay me. But I made it because I loved, admired and respected him. He was my inspiration. Our emotions are not for sale.
Simply put, we never understood what he wanted to say, through his thoughts. When he was among us, we actually ignored him. Now, after his demise, there will be some meetings to pay homage.
He was a great author and playwright. He had international name and fame; he was miles ahead as a social thinker. Such a great person was from our soil. His roots were in this Marathi mati, Maharashtra. But where is the proper documentation of his contribution? Where is some audio-visual documentation on him which this generation can use as a reference point?
He was a gentle, concerned person too. His care about common people was seen not only through his writings but also from his down-to-earth behavior. When I first spoke to him about this documentary, he was concerned about my expenses. He told me not to do it because it would require a lot of money. That was Tendulkar. But we never tried to understood him as a person, as a thinker. We have to admit it.
He was reluctant to speak about himself. But I insisted because it is important for today's generation to understand him. My film is about 90 minutes. He has talked about many subjects and I have captured it as it is. His thoughts are unedited.
He talked about India. He asked questions like: Do we know the real India? Do the people who rule know India as it is? We have ignored our aboriginal communities. I have travelled the whole of India for two years, on a Nehru Fellowship. I have seen it. We have to make conscious efforts to bring our people and our diverse cultures together.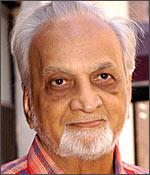 When I asked him about his personal crisis, and how he overcame his problems, he asked me to stop the shooting. He became very emotional and did not want to speak about it.
But I said that we cannot differentiate between the writer and the person. We cannot take the writer out from his personal life. There are people, who admired him for what they have faced.
On his birthday on January 6 last year, I showed this film at the National Film Achives at Pune. I also screened it in Aurangabad and Nashik.
After watching this film and hearing his thoughts, someone said, ''I didn't know Tendulkar is like this. If I hadn't watch this film, I might have died with some misconceptions about him. But this film has lessened my misconceptions somewhat.''
Tendulkar was very happy about the outcome, and that meant everything to me. Now, I will miss his gentle words.
As told to Daajiba Kondke