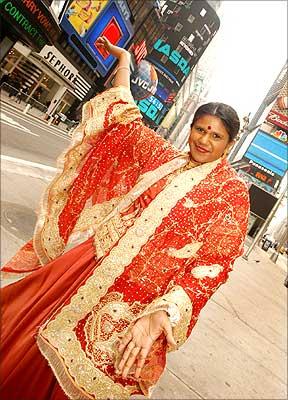 For many years, the Nathan family in suburban Washington, DC harboured a secret. Soon after the weekend visit to the Hindu temple, the family sneaked into McDonald's and feasted on burgers.
"I was deeply puzzled by this," says the writer and comedian Vijai Nathan as she looks back at her childhood. "I could understand my father eating beef; for all practical purposes he was an atheist. He visited the temples all right but he could not bring himself to believe in the gods. His religion was philosophy. But my mother is a devout Hindu."
So she asked her mother how she could let the family eat beef. "I remember her telling me, Cow is sacred, bull is not."
So, Nathan concluded, "McDonald's is 100 percent bull!"
Expect her to tell the audiences more about her family, the clash over religion and spirituality and how she views the  conflicts and lack of resolutions by the family members, when you watch her in the new show that debuts in DC November 10.
"I pay homage to the experiences of children born in one country to parents born in another in my new show McGoddess: Big Macs, Karma & the American Dream," she says. Nathan, who gave up journalism  -- including a stint as a copy editor at  the Baltimore Sun  -- to be a comedian, says the show has been brewing for years.
"Like all my other work, this one too is autobiographical," she says. "While my previous work focused mostly on my upbringing in an Indian family, the new work is mostly about faith or lack of it. As one grows older, the more one begins to look at the role of faith, religion and spirituality in our lives," she adds.
But questions on religion and faith have intrigued and tormented her from her childhood.
"At home we were anything but Hindus," she says. "In the building complex we lived, there were all kinds of gods and goddesses in every corner. But in school, I encounter a very different kind of god, and this is the Christian god. I am suddenly confused. But my mother could not help me, and my Indian uncles and aunties could not help me either."

Her new show will be traveling to a number of cities, Houston being the first, as per the current schedule. In DC, it is being presented by SpeakeasyDC, a mainstream arts organization.
"I think their support for McGoddess shows that stories from the desi community are really universal," Nathan muses, "and can appeal to all communities."
This was the case with her other shows, too.
"Desis came to see them and they enjoyed the shows, but there were also hundreds of mainstream Americans," says Nathan, who started as a stand-up comic over a decade ago and moved on to one-woman shows like Good Girls Don't, But Indian Girls Do. The show was an exploration of the struggle to discover, create and claim an Indian-American identity, she says. "It struck a chord with people of other ethnicities. I have had white and African-American women cry at my stories. I believe my shows are indeed universal."
From time to time, she teaches writing courses for adults.
"It is tough to be a comedian, especially when you are doing the South Asian stuff," she confesses. "But I live a very frugal life."
In her new show, apart from assuming her parents' personas, she acts as her born-again Christian sister who keeps telling her and mother they are doomed to go to hell. Their father died a few years ago; otherwise he would have continued to be on his daughter's list of souls to be saved.
"My mother never really got it," she says, referring to her sister's conversion. "My mother says, 'Vijai, why does she have to be a born again? In our religion, we are born again and again and again.'"
Never mind the fun she has her at her parents' expense, Nathan says, she has always loved them and they know it.
"They also have taken my comedy in their stride," she adds. A typical line in her show would be something like: 'My dad came to this country in 1970 and there are certain American traditions that he didn't believe in. Like freedom.'
She admits it has not been easy for her parents to understand her.
"I am an American kid but I grew up in an insular Indian household," she adds. She confesses that she 'mortified' her parents by giving up a career in journalism, canceling her wedding, and becoming a stand-up comedian.
Nathan is one of the leading Indian-American comedians making people laugh across America and the globe. She has performed in South Africa, England and Canada, and was featured at the Montreal International Comedy Festival and Smithsonian's Freer Gallery in Washington, DC.
Nathan, who will release her first DVD Indian Invasion in a few months, has appeared on the BBC and taped UK Comedy Channel's The World Stands Up three years ago. NBC chose her as one of its top 10 comics in America for its Stand-Up for Diversity Showcase four years ago.
She says her humor springs from her experiences of growing up as a "foreigner" in America – despite the fact she was born and raised here.
Many Americans who came to see her stand-up acts could not accept her, initially, as an American, she says.
"I used to be mistaken for a Native American," Nathan, who is in her mid 30s, says. "One guy shouts out, 'Whoo! Keep it going for the Cherokee.' So I look him into the eye and with a smile I say, 'Sir, I'm not the kind of Indian with bows and arrows. I'm the Indian with unlimited access to nuclear weaponry.'' 
Photograph credit: Paresh Gandhi