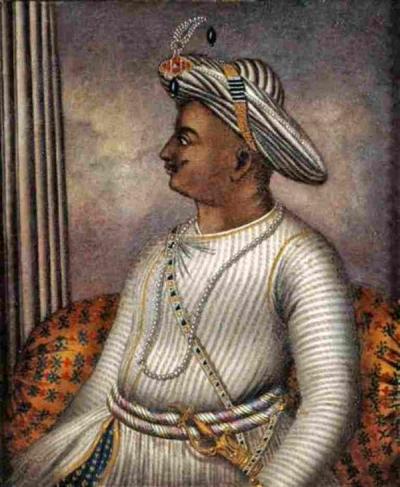 A local Vishwa Hindu Parishad leader died and several others, including policemen, were injured as violence erupted over the holding of the birth anniversary celebrations of 18th century Mysore ruler Tipu Sultan.
A youth was also injured in firing by some unidentified persons near Madikeri, police said, adding that prohibitory orders have been clamped in the entire Kodagu district and additional reinforcements sent to the area to bring the situation under control.
Police used tear gas shells and resorted to lathicharge as hundreds of people gathered here and clashes erupted between the opponents and supporters of the celebrations.
According to police, one Kuttappa, a VHP leader and a former state government employee, suffered head injuries in stone throwing and died on the spot.
The violence flared up even as statewide celebrations are being held by the government for the first time to commemorate the birth anniversary of Tipu which, however, is being boycotted by BJP amidst opposition by several outfits who see him as a "religious bigot".
Some outfits in Kodagu district had called for a bandh on Tuesday to protest against the government's decision.
Meanwhile, Home Minister G Parameshwara said additional reinforcements were being rushed to Madikeri from Chamarajanagar and Mysuru districts and appealed to people to maintain peace.
BJP has announced a "total boycott" of the celebrations, saying that no public representative from their party at any level would participate in the official function.
Further, the party's state unit chief Prahlad Joshi said that Tipu was a "fanatic" and "anti-Kannada".
Several organisations and individuals, too, have opposed the state government's move to celebrate 'Tipu Sultan Jayanti' on November 10.
Tipu was a ruler of the erstwhile kingdom of Mysore and considered an implacable enemy of the British East India Company. He was killed in May, 1799, while defending his fort of Srirangapatna against British forces.
Karnataka Chief Minister Siddaramaiah has defended the government's decision to commemorate his birth anniversary even as he slammed RSS and "other communal forces" for opposing it.
Mangaluru United Christian Association, too, has protested against the celebrations, alleging that Tipu was responsible for the destruction of many churches in the coastal region and also that Christians were harassed under his rule.
Reacting to the flare-up, Siddaramaiah blamed the bandh call for it, saying it was an attempt to create disturbance and law and order problem and hamper peace. "There was no mistake on the part of the government. They should not have called a bandh."
He said Kuttappa died because he fell while running, "not because of stone pelting or lathicharge".
"The situation is under control and police bandobast has been strengthened. ADGP law and order is at the spot, IG is also there... Situation is totally under control," he said.
On BJP's charge holding the government responsible, he said, "They are the ones who are responsible. They have tried to disturb (Tipu) Jayanti celebrations organised by the government by organising bandh, by staging protest..."
"Who has violated the law? Who has disturbed peace... these are efforts to disturb communal harmony."
"We have taken all measures to protect communal harmony, so there is no government responsibility in this, there is nothing wrong on part of the government...we have in fact protected law and order," he said.
District in-charge Minister K J George said one person has died by falling into a ditch accidentally during the clash and the government will inquire into it.
Karnataka state BJP leader Prahlad Joshi said "this incident shows failure on part of the government. Government has to give adequate compensation to the dead and injured, they have to give at least Rs 25 lakh."
He said a judicial probe has to be conducted into the incident and police officials responsible had to be suspended.
Stating that opposition to Tipu Jayanti is harmful for the country, former Prime Minister and JD(S) supremo H D Deve Gowda said the violence was condemnable.
Tipu Sultan is a sensitive issue in Kodagu district. Thousands of Kodavas (Coorgis), considered a martial race, were seized and held captive by Tipu Sultan, who had occupied Kodagu district after a number of attempts to suppress their rebellion in the 1780s.
According to a version of history, the captured Kodavas were subjected to forcible conversions to Islam, death and torture, besides destruction of temples. Kodagu-based writer of historical books C P Beliappa has called Tipu Sultan a "treacherous tyrant".
However, the scale of such suppression is disputed by several historians who see Tipu Sultan as a secular and modern ruler who took on the might of the British and died while defending his fort at Srirangapatna near Mysuru against their forces.