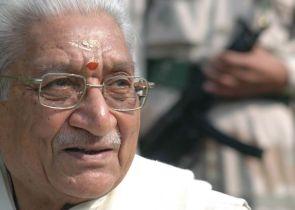 Top Vishwa Hindu Parishad leaders Pravin Togadia and Ashok Singhal were on Sunday arrested in a massive crackdown by the UP administration to enforce its ban on the controversial yatra which was symbolically inaugurated by the saffron outfit in Ayodhya.
While Togadia was arrested from Ayodhya, Singhal was taken into custody at Lucknow airport.
Singhal, who arrived from New Delhi with Swamy Ram Bhadracharya, was arrested when he insisted on visiting Ayodhya, officials said in Lucknow.
Soon after his arrest from Golaghat area in Ayodhya, Togadia said demonstrations would be staged all over the country tomorrow against the ban by the UP government on the 'Chaurasi Kosi Parikrama Yatra'.
"This is not a political yatra but a religious one and ban or oppression resorted to by the government would not be tolerated at any cost," he told reporters.
"This movement would reach each and every village of the country and tomorrow protest dharnas would be staged at district headquarters all over the country," he said.
Ram Janmabhoomi Nyas Committee Chairman Mahant Nritya Gopaldas kick-started the yatra from Maniram Chawani (akhada) in Ayodhya but was briefly detained by the police.
"We have inaugurated the yatra. But this yatra should not be politicised. It is carried out all 12 months (not time bound)," Gopaldas said.
Ahead of the start of the yatra, former BJP MP Ram Vilas Vedanti and sitting MLA Ram Chandra Yadav were arrested early Sunday morning.
Vedanti was arrested around 7 am when he had left his house here for the parikrama, police said, adding MLA Ram Chandra Yadav was also arrested.
The town has been under heavy security cover as VHP declared that it will go ahead with the yatra, which has been banned by the ruling Samajwadi Party government fearing a communal flare-up.
A curfew-like situation is prevailing in the town as shops have been shut and Naya Ghat area has been cordoned off.
Cracking down on the yatra, police have already arrested over 500 VHP supporters and office bearers from across the state.
"Over 500 persons going to participate in the yatra have been arrested from across the state, where tight security arrangements are in place to prevent the proposed yatra. Anyone going for the yatra will be arrested as it has been banned by the government," ADG, Law and Order Arun Kumar said.
Senior VHP leader Praveen Togadia told PTI that he has reached Ayodhya on Saturday night by road and will take out the yatra.
Prominent among those arrested by the state police include Savitri Bai Phule, VHP's provincial coordinator Acharya Kushmuni and Mahant Santosh Das alias Sathu Baba, a VHP office bearer in Varanasi while prominent VHP leader Mahant Ram Saran Das was held at Ram Sanehi Ghat in Ayodhya.
In Amethi, peethdheshwar of Sagra Ashram Abhay Chaitanya Mauni Mahraj was also put under house arrest as a precautionary measure.
A team led by the Faizabad DM and SSP had on Saturday carried out searches at VHP's local headquarter Karsewak Puram, Mani Ram Chawni, the temple of VHP leader and president of Ram Janam Bhumi Trust, Mahant Nritya Gopal Das and about half a dozen suspected hideouts of VHP's activists in and around Ayodhya.
Temporary jails have been set up by the government in districts including Faizabad (10), Barabanki,(12), Bahraich (16), Basti (2), Gonda (3) and Ambedkarnagar (5), which lie in the yatra route.
The state government had banned the yatra, stating it would not allow to set any new tradition.
Such parikrama was never organised in the past 50 years and as per Hindu belief it is performed in "Chaitra" month (April) of the Hindu calender which has already passed.
Image: VHP leader Ashok Singhal