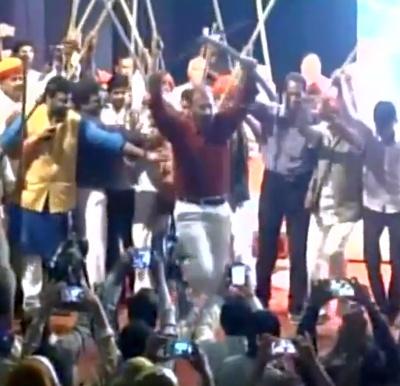 Retired Indian Police Service officer D G Vanzara, who is out on bail in Ishrat Jahan alleged fake encounter case, on Friday returned home after nine years and announced that he will enter public life.
Vanzara, a key accused in the alleged fake encounters of Ishrat Jahan, Soharabuddin Sheikh and Tulsi Prajapati, was given a grand welcome by his family members and well-wishers in Gandhinagar.
The Central Bureau of Investigation court had last week relaxed bail conditions by allowing him to enter and stay in Gujarat. At a welcome function held at the Town Hall in Gandhinagar, Vanzara said it was the beginning of his public life and he would fight for the rights of the people.
Using the analogy of cricket, Vanzara said, "I am retired, but not tired. My first inning is over, but my second and most important inning starts now. Till now, I was fielding. Now, the bat is in my hand. I will bat and those who conspired against me and other innocent officers will have to field. I will make them run hard."
"As an officer in the past, I used to be with needy people to understand and solve their problems rather than sit in air-conditioned cabin. Once again, I will stand with such people and try to solve their problems. I hereby announce that I have entered in public life from today," he said.
After remaining in jail for eight years, Vanzara walked out of Sabarmati prison in February 2015 after he was granted bail in the Ishrat Jahan case on condition that he will not enter Gujarat. Since then, he was living in Mumbai.
The former officer, who retired in 2014 while in jail, also claimed that there was an urgent need to change the prevailing situation in Gujarat as well as in India. He also called for a mass movement to uproot corruption and inflation.
"I am not happy with the prevalent situation in India and Gujarat. There is an urgent need to change it. If the government does not support people, then it is not possible to bring development. There is a need to start a people's movement to bring development," he said, addressing a gathering of around 3,000 people.
Accusing politicians of being 'real anti-nationals', Vanzara held them responsible for putting him and many other police officers in Gujarat in jails in fake encounter cases.
"We can save India from terrorism. We can also save our country from the attacks of China or Pakistan. But, it is difficult to save India from anti-national politicians. Due to them, officers like us have spend eight years in jail. These traitor politicians conspired against us for their own political gains," he added.
Vanzara was arrested on April 24, 2007 by Criminal Investigation Department crime in connection with the 2005 Sohrabuddin Sheikh fake encounter case.
In September 2014, the Mumbai court had given bail to Vanzara in the Soharabuddin Sheikh and Tulsi Prajapati alleged fake encounter cases, a year before he was granted bail in the Ishrat case.
Image: Vanzara dances at a function in Ahmedabad after the court permitted him to enter state. Photograph: ANI