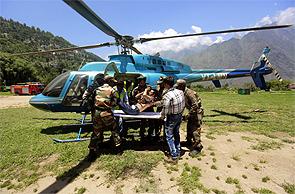 Evacuation of stranded people from flood-hit areas of Uttarakhand on Saturday picked up pace with security forces rescuing 17 foreign tourists from Dharasu and sighting 1000 pilgrims stuck between Kedarnath and Gaurikund, even as bad weather hampered chopper operations at some places.
Union Home Minister Sushilkumar Shinde arrived in Dehradun to review ongoing rescue efforts in consultation with Chief Minister Vijay Bahuguna.
An eight-member team of experts is also being sent to Kedarnath shrine to take a count of bodies lying in the temple area, Disaster Management authorities said.
Photos of the bodies strewn all over the area will be taken and put on the state government's official website, they said.
Chopper operations were hampered early today morning, with overcast conditions delaying the programme of Gujarat Chief Minister Narendra Modi, who was to undertake an aerial survey of the affected areas in Rudraprayag, Chamoli and Uttarkashi districts.
Nearly 1000 pilgrims stranded in Rambara and Junglechatti areas en route to Kedarnath shrine in Rudraprayag district were sighted by security forces.
These people seem to have taken refuge in the gorges and ravines in these areas when the massive deluge occurred nearly a week ago.
Hungry for days, many of those sighted are ill and in need of immediate medical care, official sources said, adding the sick and ailing among them are being evacuated on a priority basis.
Apart from the 40 choppers in operation, the Rajasthan government has also given two choppers and 30 buses for evacuation of pilgrims.
The Gujarat government has also put into operation two chartered planes 747 Boeings (Jet Airways) with a capacity of 140 persons each to ferry pilgrims from the state, who are stuck in high-altitude areas.
A control room for pilgrims from Gujarat has been set up at Shantikunj Haridwar.
Image: An injured pilgrim is put on a stretcher next to a helicopter by soldiers and volunteers during a rescue operation | Photograph: Danish Siddiqui/Reuters