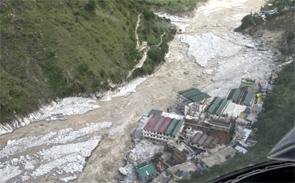 The flood-hit religious destinations of Kedarnath, Badrinath, Yamunotri and Gangotri, where rescue operations are underway, would again record heavy rains from Thursday, the India Meteorological Department said on Friday. It also predicted "rather heavy showers" in Hemkund Sahib, another religious destination hit by flash floods and heavy rains, from Wednesday.
IMD classifies rainfall between 3.5 and 6.4 centimetres as "rather heavy".
Between June 21 and June 25, skies over Kedarnath, Badrinath, Yamunotri and Gangotri would remain partly cloudy, with the possibility of light rains.
Though IMD didn't issue a warning for these areas for the period till June 26, it said three to six centimetres of rainfall was likely on June 27.
Elsewhere in the country, the Met department said southwest monsoon, which had weakened in most parts of the country, is expected to revive from Thursday.
Rain and thundershowers are expected in some places of Punjab, Haryana, Rajasthan and also in east and some areas in south. From June 1 to June 20, the monsoon was more than 50 per cent above normal across the country.
Since last week, Kedarnath, Badrinath, Yamunotri, Gangotri and Hemkund Sahib have been ravaged by flash floods and heavy rains.
Meanwhile, the army and paramilitary forces have stepped up rescue operations, deploying 40 helicopters to the flood-hit areas. It is estimated that nearly 9,000 people are still stranded in Kedarnath and Badrinath.
Uttarakhand Principal Secretary Rakesh Sharma said the casualty figures could be "shockingly high".
Amid criticism on the lack of coordination between various arms of the government hampering relief work, the government on Friday appointed V K Duggal, member of the National Disaster Management Authority and former Union home secretary, the nodal officer to coordinate all relief and rescue operations. Duggal would operate from Dehradun.
The decision to appoint a nodal officer was taken following a review meeting held by Home Minister Sushil Kumar Shinde in the capital. The meeting was attended by representatives of the home, defence, food and surface transport ministries, the National Disaster Management Authority, etc.
Shinde is expected to visit Uttarakhand on Sunday.
Congress President Sonia Gandhi has instructed party members of Parliament and legislative assemblies to donate a month's salary for relief work in the affected areas.
Image: Flood waters flow next to a residential complex after heavy rains in Uttarakhand | Photograph: Reuters