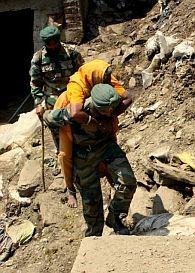 The relatives of over one thousand people, who went missing in Uttarakhand's Rudraprayag district after the deluge last month, are running out of patience and planning to visit Kedarnath and Rambada on their own to look for them.
With no information coming from the administration about their missing kin, they are preparing to visit Kedarnath and Rambada and scour tonnes of debris lying in these areas in search of the bodies of their relatives so that they can perform their last rites.
The relatives of Lambgaudi resident Sandip Bagwadi, who went missing after the tragedy, have been running from pillar to post to get some information about his whereabouts but to no avail.
Now his father Radhaprasad has decided to set out in search of his son on his own. "I can't leave this (search) now to the administration. It is the 19th day of the tragedy and we are still clueless about what happened to my son.I am determined now go on my own quest for him," says Radhaprasad.
The same is the plight of the kin of other missing persons from the district.
Guptkashi resident Dinesh Bagwadi, who lost five of his relatives in the tragedy, says, "We can't wait any more for the officials to disclose information about our missing relatives. We have now decided to go to Kedarnath and Rambada on our own to bring back our relatives alive or dead."
"We have unconfirmed information that some of our missing relatives were seen getting buried in the debris of mud and slush brought by the calamity in its wake. In a situation like this we can't wait till eternity to get information about them from the administration. If we go to these places ourselves we will definitely get a clue of their whereabouts," Bagwadi said.
Disappointed with the "sluggish" approach of the administration, the relatives of missing persons are preparing to go to Rambada and Kedarnath on their own is search of their dear ones, priest Kishan Sharma says.

When contacted, District Magistrate Dilip Jawalkar said he was not aware of any such plans of the relatives of missing persons.
"But if they approach us, the administration would like to consider their suggestions to expedite the process of ascertaining the fate or whereabouts of the missing ones. However, amid MeT department warning of heavy rains in parts of the state, it is not advisable for people to go to Kedarnath and Rambada on their own in search of their missing relatives," he said.