Over 53 lakh poor families are expected to avail the health insurance cover provided under this scheme, reports Sharat Pradhan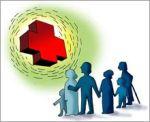 For a state where the multi-crore scam involving the National Rural Health Mission was unearthed during the Mayawati government, Uttar Pradesh sits on a historic turning point. On Monday, the Union government will confer the honour of 'the most improved state in the implementation of the National Health Insurance Scheme.'
The turn-around is largely credited to a few officials handpicked by Chief Minister Akhilesh Yadav, who has been invited for the award ceremony in Thiruvananthapuram on Monday. However, owing to his other preoccupations, the chief minister has asked his secretary Alok Kumar to receive the award on behalf of the government. Kumar is also the chief executive officer of the scheme and is described as the driving force behind the success story.
Over 53 lakh poor families are expected to avail the health insurance cover provided under this scheme.
The health sector was reenergized in the NRHM scheme with 108 schemes bringing in all round accolades and appreciation of the people. "This recognition will bring smiles to the team that has worked with all dedication and perseverance," says Kumar, who is clearly on a mission to ensure the scheme is made available to the target audience of BPL families.
"The scheme will insure that the poor of the state are not impoverished by bouts of sickness requiring in patient treatment," he said.
In view of the remarkable work done in the neighbouring Barabanki district, the government has also decided to give a special award to district magistrate Minishthi S.
The UP Rural Institute of Medical Sciences in Samajwadi Party chief Mulayam Singh Yadav's native village, Saifai in Etawah district, has also been identified as the state's best medical institution in providing treatment to the poor and the needy.
The issue of a smart card to the beneficiary against a payment of Rs 30 entitles him and his immediate family to treatment up to Rs 30,000 per year. The remaining insurance premium of Rs 470 per family is contributed jointly by the state and central governments.
A total of 1,090 pre-decided diseases/packages requiring indoor patient treatment are covered under the schemes. The scheme also entails giving food and Rs 100 per day for transport on discharge from hospital, but a maximum of Rs 1,000 a year. 75 per cent of the annual premium on the scheme is borne by the central government and the remaining 25 per cent by the state government.
In view of hurdles encountered during the first phase of the scheme, where the claims were not attended to by listed hospitals due to tardy payment schedules, new means have been devised to rid the system of such anomalies. "The intervention and initiatives taken by the government have shown desired results and of the claims made by listed hospitals, as many as 74 per cent were settled within 30 days", pointed out Kumar.
Owing to the prompt process and quick decision making, 1,486 hospitals have been listed so far; of which 823 are private hospitals while 663 are government hospitals. For the first time a two-tier grievance redressal system was set rolling in which claimants dissatisfied with decisions of the insurance company could appeal to district and then to the state level committee.