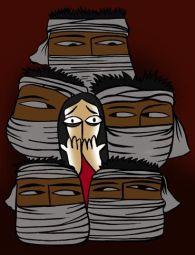 Uttar Pradesh's Principal Secretary (Home) Anil Kumar Gupta was Monday shifted in the aftermath of the strident attack on the state government over the Badaun gangrape and murder case which also triggered street protests by BJP women activists.
Police used water cannons to push back hundreds of the activists who tried to march to the office of Chief Minister Akhilesh Yadav in Lucknow in protest against the gangrape and murder of two teenage cousin sisters.
The Union home ministry, meanwhile, shot off a letter to the UP government asking it to explain why the stringent clauses of Scheduled Castes and Tribes (Prevention of Atrocities) Act were not slapped on those accused of raping and murdering of the two dalit girls in Badaun.
The UP Police, however, claimed that the victims did not belong to the said caste.
"The caste of the victims does not attract the Scheduled Castes and Tribes (Prevention of Atrocities) Act", IG, Law and Order Amrendra Sengar said.
"There is no confusion at the district level in this matter as the caste of the victims does not come under the Scheduled Caste or Tribe," he added.
According to sources, the two cousin sisters belonged to "shakya" caste which come under the category of backward castes.
Gupta has been put on the waiting list for his next posting, an official spokesman said in Lucknow.
The state government had been in the firing line of the opposition parties which had been citing the incident as symptomatic of "dismal" law and order situation in the state.
The chief minister has not yet posted a new official in Gupta's place, the spokesman added.
The BJP Mahila Morcha activists began their march from the party office in front of Vidhan Bhawan in Lucknow towards the CM's office at Lal Bahadur Shastri Bhawan in protest against the rising incidents of atrocities against women in the state against the backdrop of the Badaun episode.
The protesters, led by party state unit president Laxmi Kant Bajpai, were, however, stopped by police before they could reach CM's office.
A scuffle between police and the activists broke out when the latter tried to force their way towards the CM's office. Police had to use water cannons to disperse the protesters.
The BJP activists then sat on a dharna. They also alleged that police manhandled their workers in which many of them sustained injuries.
Later, a 12-member delegation, including the morcha's state president Kamlawati Singh and six women MPs, met the principal secretary (home) for talks.
As the incident touched off an outrage, Lok Janshakti Party leader and Union Minister Ram Vilas Paswan joined the politicians who made a beeline to the Katra village in Badaun, 300 km from Lucknow,to meet the family of the victims.