September 30 was yet another day in India, but will be remembered for many years to come for what transpired in Uttar Pradesh that Wednesday.
Early, that morning, the family of the the Dalit girl, who was gang-raped by upper caste men in a Hathras village on September 14 and who died in a Delhi hospital on Tuesday, alleged that the local police forced them to perform the last rites at dead of night before she was cremated.
If the rape and the shocking manner in which the teenager was cremated in the middle of the night was not enough, Superintendent of Police Vikrant Vir claimed the Aligarh hospital's medical report did not confirm rape.
Later on Wednesday morning came the verdict in the much awaited 28-year-old Babri Masjid demolition case.
In a shocker, all the 32 accused including Bharatiya Janata Party leaders Lal Kishenchand Advani, Dr Murli Manohar Joshi and Uma Bharti were acquitted by a special CBI count for lack of evidence!
In another shocker on September 30 night, a 14-year-old child was reportedly raped by her neighbour at a village in Kakore, UP.
As the atrocities against Dalits continue in the Bharatiya Janata Party-ruled state, a scheduled caste woman died in Balrampur district while she was rushed to hospital after being raped.
Uttam Ghosh offers his take on the tragic events of September 30 in the most populous state in the Indian Union, Uttar Pradesh.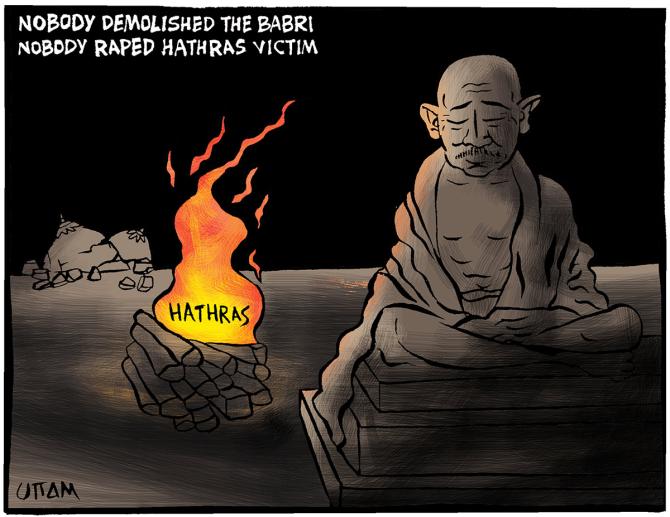 Feature Presentation: Aslam Hunani/Rediff.com