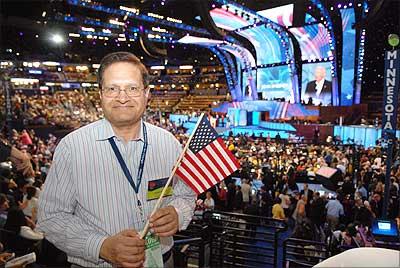 Kamil Hasan, a venture capitalist from California and the founder and chairman of Hitek Ventures in California, is one of the only two Indian American super-delegates at the Democratic National Convention. Mona Mohib, the other Indian-American super delegate, is the director of Policy and Communications for the Democratic Governors Association. The DGA is the only Democratic organisation dedicated to electing Democratic governors across the country.
Hillary at the Democratic meet
Hasan is a super-delegate by virtue of his being an At-Large Member of the Democratic National Committee and the only Indian American to serve on the board of the DNC, appointed by Governor Howard Dean, chairman of the DNC, more than three years ago.
 
Hasan is also one of the leading fund-raisers for the party and its candidates in California and the leading Indian American 'bundler' of contributions, first for the presidential campaign of Senator Hillary Clinton and now for Senator Barack Obama.
Barack Obama, in his own words

 
On August 17, it was Hasan who co-hosted a special South Asian fund-raising event at  the Fairmont Hotel in downtown San Francisco and introduced Obama. At the event, Obama declared, "Not only do I think I'm a desi, but I am a desi."
 
He was one of Clinton's strongest supporters and fundraisers. Two days before Obama clinched the nomination after winning the primaries in June 3, he called Hasan and asked for his support. When Hasan agreed to support Obama, he was one of the approximately ten super-delegates who helped Obama seal the nomination.
Obama inspires Democratic meet

 
In an interview with rediff.com, Hasan acknowledged, "I was strongly supporting Hilary because I believed she would probably have a better chance of beating (Republican presidential nominee Senator John) McCain, but even then I still liked Obama very much. I had been to all his fundraisers and I had been writing cheques for him and all that and had met him many times."
 
"But then two days before he clinched the nomination in June, he called me twice and said, 'I would really like to get your endorsement because in two days I am hoping to get over the threshold.'"

"I then asked him a couple of questions and I asked him about his commitment to United States-India relations and where they should go, and also about the India-US nuclear deal. He said that US-India relations would be one of his highest priorities if he were President. He assured me that he would support the nuclear deal and it should be passed the way it is without any modifications."
 
Obama's critics have argued that his support for the deal is in doubt even though he had ultimately voted in favour of it. They point out that during the deliberations of the agreement in the Senate Foreign Relations Committee -- of which he is a member --Obama had introduced a killer amendment and questioned the deal in light of India not being a signatory of the Nuclear Nonproliferation Treaty and New Delhi's commitment to nuclear nonproliferation.

 
Hasan said, "I also asked him if he would consider including Indian Americans in his administration and he said, 'Definitely. I would definitely consider that.'"
 
"He was very convincing and the fact that he called me again and reiterated his support for all of the three questions I had for him convinced me that would be a very good President, so I endorsed him that day."
 
Hasan said, "I was among he final 10 super-delegates to get him over the threshold."
South Asians party and raise funds for Obama

 
Hasan recalled, "Last year (when he had hosted a major fundraiser for Clinton in Silicon Valley), I found that almost like 60-70 percent of Indian Americans were supporting Hillary but then there was a big shift. Since I am representing Indian Americans in the DNC as an At-Large Member and as a super-delegate, I thought it is my responsibility to represent their opinion."
 
But Hasan acknowledged that notwithstanding Clinton's strong endorsement of Obama and her exhortation to her supporters to make sure they support Obama, and the fact that she has released all of her delegates to him, there were still "there are a lot of Hillary supporters who have not yet endorsed Obama."
 "I am surprised how many of them have still not switched over," he said.
 India@61: Obama, McCain shower encomiums

 
Hasan said that he was trying to convince these Hillary supporters to switch over and would continue to do so after leaving Denver. "I was already doing that and in fact even the Obama campaign asked me to help with that. After the fund-raiser, they talked to me and said, 'We really need your help in trying to bring over the Hillary people."
 
"So," he reiterated, "I had already begun to do that and I'll continue to do that. I have started doing it here and will put everything I've got into doing that when we leave Denver."
Image: Super delegate Kamil Hasan at the Democratic Convention in Denver.
Photograph: Paresh Gandhi