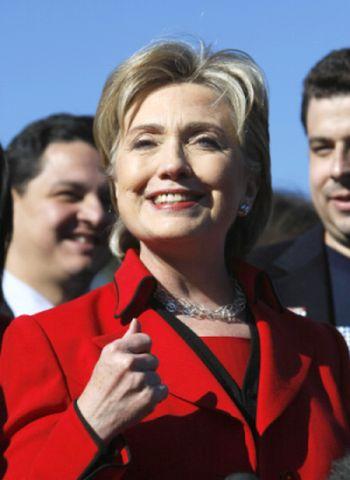 In a dramatic comeback, New York Senator Hillary Clinton on Wednesday won crucial primaries in Ohio, Texas and Rhode Island, ending frontrunner Barack Obama's 12-win streak and signalling that the Democratic White House race was far from over.
"You know what they say. As Ohio goes, so goes the nation," the 60-year-old former first lady told cheering supporters in Ohio, which had 141 delegates at stake.

Polls projected at least 16 percentage points lead for Clinton, who had been facing mounting pressure from rivals and even supporters to call it quits, in case of a defeat in either of the two big-ticket states of Ohio and Texas.
Earlier, Obama won the Vermont primary (15 delegates), clinching nearly 60 per cent of the votes for a 12th straight win over Clinton, but she bounced back with a win in the north eastern state of Rhode Island (21 delegates), collecting about 53 per cent of the votes.
"This nation is coming back and so is the campaign," said a beaming Clinton.
Exit polls have showed Clinton did very well among blue collar workers in Ohio. Obama did well among the college educated with both law makers.
Of the 370 Democratic delegates at stake, Ohio and Texas had 141 and 193 delegates up for grabs. Hillary now has 1631 delegates in her bag. A victory in Vermont earned Obama 17 more delegates, taking his tally to 1403. The magical figure for securing a Democratic nomination is 2,025.
Clinton's performance in Ohio is being attributed to the last minute advertisement blitz unleashed against Obama questioning not only his experience but also his alleged double-speak on the North American Free Trade Agreement.
The Obama campaign has accused Clinton of resorting to negative attacks especially the 'Red Phone' advertisement that essentially posed the query as to who is a better candidate to attend to a crisis.
On a high after the victory, Clinton vowed to go all the way to the White House.
"The people of Ohio have said it loudly and clearly: We are going on, we are going strong and we are going all the way," she said, pointing that no Democratic or Republican Presidential candidate had reached the White House after losing in the state.
But the Obama campaign maintained that irrespective of how March 4 turns out, its candidate will be way ahead in the delegate count.
"No matter what happens tonight, we have nearly the same delegate lead as we did this morning, and we are on our way to winning this nomination," Obama told his supporters soon after Clinton's address.
Democrats, meanwhile, were trying hard to allay apprehensions that the bitter Obama, Clinton fight will only affect Republicans. Chairman of the Democratic National Committee Howard Dean said a nomination ahead of the convention would help but it was not for the party leaders but for the voters to decide who should drop out of the race.
"... I don't think any one person is necessarily going to win by the end of the night. It would be nice to have a nominee, but as long as we have one by Denver, we are fine," Dean, former governor of Vermont, told MSNBC.
Image: A buoyant Hillary interacts with media persons in Houston
Photograph: Robyn Beck/Getty Images

Also Read:
Obama's Rise and Rise: Camelot or Bust?
Is this the next First Lady of the United States?