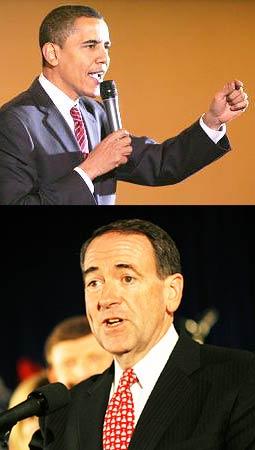 In a major setback to New York Senator Hillary Clinton's bid to become United States' first woman President, Illinois Senator Barack Obama has won the Iowa caucuses in the crucial opening contest in the race for the 2008 Democratic nomination for the White House.
On the Republican side, Mike Huckabee, a Baptist preacher turned politician, scored a stunning victory in Iowa, defeating former Massachusetts Governor Mitt Romney on Thursday night.
Forty six-year-old Obama, bidding to make history by becoming the first black President of the US, beat New York senator and former first lady, Hillary Clinton, and ex-North Carolina Senator John Edwards in a close race. Clinton and Edwards were in a tight battle for the second spot.
Shortly after her defeat, Clinton called Obama to congratulate him, according to her aides said.
In a short speech, she said was 'optimistic' and 'confident' about the New Hampshire primary on Tuesday.
"I am so ready for the rest of this campaign (across the US) and I am so ready to lead," Clinton said at her Iowa headquarters in Des Moines, flanked by her husband and former President Bill Clinton.

The victory in Iowa has come as a shot in the arm for Obama. Having defeated national front-runner Clinton, the Illinois senator can now concentrate on New Hampshire, where both candidates are locked in an even battle.
Further, Obama is expected to score big in the next big contest in South Carolina, where more than half of the voters are black. A win there will make him a strong Democratic contender for the White House.
Huckabee, a former Arkansas governor who was virtually unknown until the final weeks of the campaign, impressively defeated Romney, who had spent tens of millions of dollars more than his rival in the campaign.
Romney said he would fight on despite his loss in Iowa.

"I am looking for the gold or the silver... I am going to continue battling and I will get the nomination. Congratulations to Mike and we'll go on to New Hampshire," Romney told Fox News. 

Obama, son of a Kenyan father and white American mother, is only in his first term as Senator from Illinois. He scored his victory on a message of change in Washington.
Similar primaries will take place across all American states before each party backs a single candidate to contest the November election for the White House.
The Iowa caucuses and the upcoming New Hampshire primary are considered as key for building momentum in the state-by-state process of winning the presidential nomination. Candidates who do poorly tend to drop out of the race.
The result for Republicans in Iowa, where Fred Thompson -- an actor and former senator -- and Senator John McCain battled for third place, further splinters their field. Now McCain and other leading candidates like former New York mayor Rudolph Giuliani are waiting for the outcome of primaries in bigger states.
But, the defeats are major setbacks for Clinton and Romney, both of whom had long been front-runners in Iowa. Obama also outpolled Clinton among women, and benefited from a surge in first-time caucus-goers.
The Iowa test launched an intense, five-week period that will culminate in more than two dozen contests on February 5.
With President George W Bush, a Republican, constitutionally barred from seeking re-election, both parties have indulged in costly and wide-open campaigns.
Image: (Above) Democratic candidate Barack Obama. (Below) Republican candidate Mike Huckabee.
Reportage: PTI | Photographs: Getty Images

Also See: The star-spangled manner