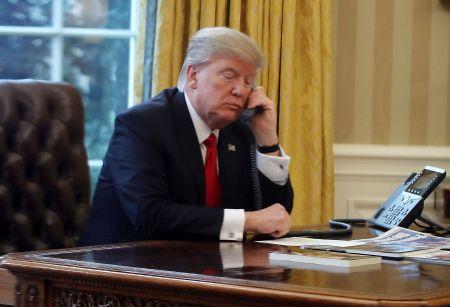 The phones of White House staffers have been checked under a crackdown after the leakage of information to the press about Trump Administration's private conversations and meetings, according to a media report.
Quoting sources, Politico reported that the incident comes a week after US President Donald Trump criticised the media for using unnamed sources in stories and expressed growing frustration with the unauthorised sharing of information by individuals in his administration.
Last week, after US Press Secretary Sean Spicer became aware that information had leaked out of a planning meeting with about a dozen of his communications staffers, he reconvened the group in his office to express his frustration over the number of private conversations and meetings that were showing up in unflattering news stories, the report quoted sources as saying.
Staffers were also asked to dump their phones on a table for a "phone check", to prove they had nothing to hide.
Spicer, who consulted with White House counsel Don McGahn before calling the meeting, was accompanied by White House lawyers in the room, the report said.
There, he explicitly warned staffers that using texting apps that automatically deletes texts after they are sent are a violation of the Presidential Records Act, it said.
The phone checks included whatever electronics staffers were carrying when they were summoned to the unexpected follow-up meeting, including government-issued and personal cell phones.
Spicer also warned the group of "more problems" if news of the phone checks and the meeting about leaks was given to the media, the report said.
It's not the first time that warnings about leaks have promptly leaked. The State Department's legal office issued a four-page memo warning of the dangers of leaks, and that memo was immediately posted by The Washington Post.
Later on Friday, Spicer blocked certain media, including CNN, The New York Times, BuzzFeed and POLITICO, from attending an off-camera press briefing in his office.
On Saturday, Trump said he would not attend the annual White House Correspondents' Association dinner in Washington in April.