United States President Donald Trump has fired the acting Attorney General after she refused to defend his controversial immigration order.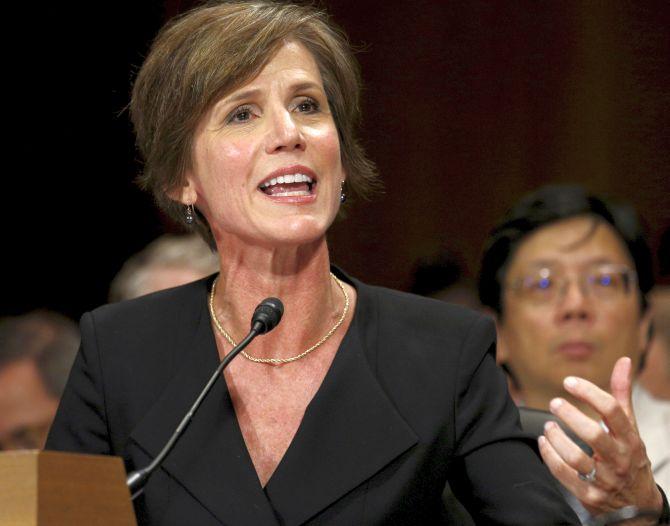 IMAGE: US Acting Attorney General Sally Quillian Yates had written a letter to lawyers at the Department of Justice asking attorneys not to defend Trump's ban. Photograph: Kevin Lamarque/Reuters
Acting Attorney General Sally Yates, a Democratic appointee, was accused of 'betraying' America after she directed Justice Department attorneys not to defend Trump's so-called 'Muslim ban' on Monday. She said she was not convinced the order was lawful.
Dana Boente, US Attorney for the Eastern District of Virginia, has been appointed as her replacement until Senator Jeff Sessions is confirmed by the Senate.
Earlier, Yates had written a letter to lawyers explaining: "My responsibility is to ensure that the position of the Department of Justice is not only legally defensible, but is informed by our best view of what the law is after consideration of all the facts.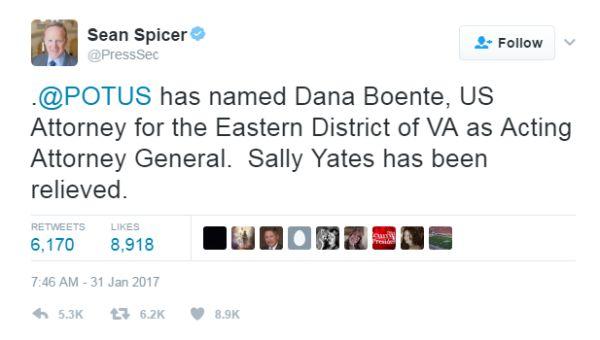 IMAGE: The announcement by the White House Press Secretary of Dana Boente taking over as Attorney General.
"In addition, I am responsible for ensuring that the positions we take in court remain consistent with this institution's solemn obligation to always seek justice and stand for what is right," she continued.
"At present, I am not convinced that the defence of the executive order is consistent with these responsibilities nor am I convinced that the executive order is lawful," she concluded.
A statement from the White House Press Secretary Sean Spicer stated that Yates has 'betrayed the Department of Justice by refusing to enforce a legal order designed to protect the citizens of the United States.'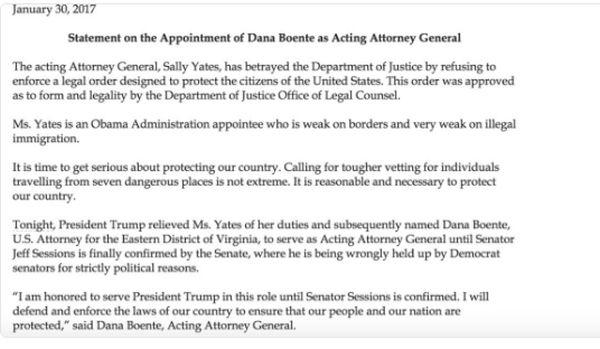 IMAGE: In the statement announcing the firing of Yates, the White House said that she had betrayed the Department of Justice.
"Ms Yates is an Obama Administration appointee who is weak on borders and very weak on illegal immigration," Spicer said. "It is time to get serious about protecting our country. Calling for tougher vetting for individuals travelling from seven dangerous places is not extreme. It is reasonable and necessary to protect our country."
Currently, there are lawsuits filed in at least five states including Virginia, New York, Massachusetts, Washington and California, which challenge the order that the new president signed on Friday.
It bans citizens from seven Muslim-majority countries from coming into the United States for 90 days, while pausing the refugee program for 120 days.
Obama breaks his silence on travel ban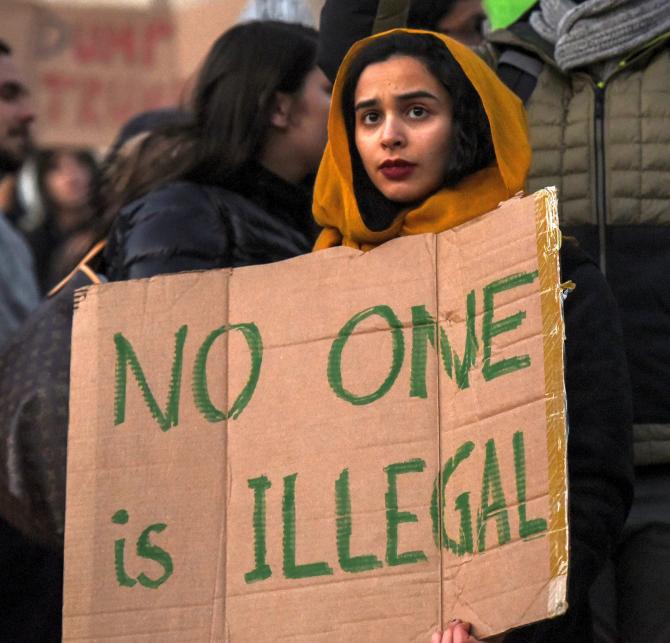 IMAGE: People participate in a protest against President Donald Trump's travel ban at Columbia University in New York City. Photograph: Stephanie Keith/Reuters
Meanwhile, Former US President Barack Obama has weighed in publicly on a political issue for the first time since leaving office -- sending out support for demonstrations that have spread across the country in protest of Trump's immigration order.
"President Obama is heartened by the level of engagement taking place in communities around the country," according to a statement released by his post-presidential office.
"Citizens exercising their Constitutional right to assemble, organize and have their voices heard by their elected officials is exactly what we expect to see when American values are at stake," Obama said.
"With regard to comparisons to President Obama's foreign policy decisions, as we've heard before, the President fundamentally disagrees with the notion of discriminating against individuals because of their faith."