The New Delhi-born Krishnamoorthi, a lifelong progressive, was always the front-runner in the race against Republican Peter DiCianni. They were vying for the seat vacated by Tammy Duckworth, who won Illinois's US Senate seat.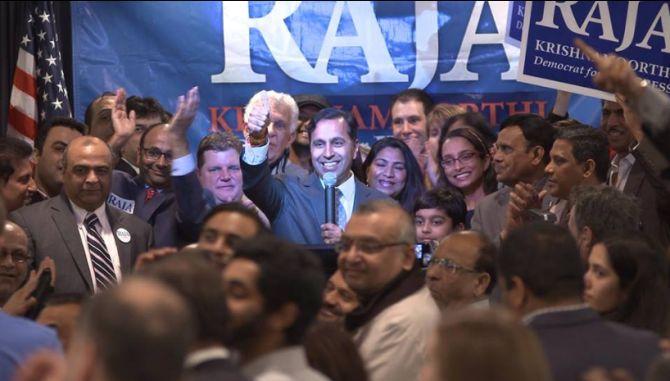 Even as America stood on razor's edge over the Presidential election, the Indian-American community chalked up a win with Raja Krishnamoorthi's successful race to the United States Congress.
'Thank you! I'm honored and humbled to be the next Congressman of Illinois' 8th District,' the Democrat from Schaumburg, a suburb of Chicago, declared soon after the Associated Press declared him winner with most precincts reporting.
The New Delhi-born Krishnamoorthi, a lifelong progressive, was always the front-runner in the race against Republican Peter DiCianni. They were vying for the seat vacated by Tammy Duckworth, who won Illinois's US Senate seat.
He not only led in the polls but also the fundraising -- collecting more than 11 times as much money as DiCianni by the end of September, according to reports -- and the endorsement. On the eve of the election he was confident and buoyed by a second endorsement from President Barack Obama, this time on video, and the conservative Chicago Tribune.
In the video -- which had featured a photo of Obama at Krishnamoorthi's home enjoying Indian food -- the US president had said, 'When I ran for the US Senate, Raja helped me develop ideas for building an economy that works for everyone. Now Raja's plans will help small businesses grow, raise wages, and help families pay for college. The polls are open now, so don't waste a minute. Vote Raja Krishnamoorthi for Congress.'
And the Tribune's endorsement of Krishnamoorthi had nicely rounded off his impressive list of endorsements just before November 8. The newspaper had found his resume 'a good balance of business, government and political experience,' with his service as a former deputy treasurer for Illinois and assistant Illinois attorney general, along with his work as a small business leader now running two high-tech businesses in the national security and renewable energy sectors.
"I was thrilled," Krishnamoorthi told us. "The Chicago Tribune, the Chicago Sun-Times and the Daily Herald, don't usually agree on much. As you mentioned, the Tribune is a conservative-leaning newspaper, the Sun-Times is a progressive leaning newspaper, and the Daily Herald is an independent-minded newspaper. So, for them to all agree that I am the best candidate and that my agenda of fighting for working class families is the best one to pursue right now, is very heartening. I am thrilled by the endorsements."
The early voting trends had also put Krishnamoorthi ahead. "The trends look very good," the would-be Congressman told us last week. "There has been heavy voting in my Congressional district and things look very positive. But on the other hand, we do have a week to go and we have to make sure that people continue the trend."
And the trend did continue.
In conversations with us, Krishnamoorthi had also emphasised the importance of Indian Americans participating in the political process.
"Voting is like having a seat at the table, and if you don't have a seat at the table, you are not on the menu," he had said, adding, "If I am privileged to come out on top, it will be a victory for all of us, not just for one person -- that's for sure."
The road ahead
Krishnamoorthi will bring to the US Congress his experiences as issues director in President Obama's successful US Senate campaign in 2004 when he helped shape policy proposals that Obama embarked on in federal office, as deputy treasurer of Illinois, as special assistant in the Illinois Attorney General's public integrity unit, and an entrepreneur.
He had put forward a four-point plan for affordable college education for children from working families, while declaring that higher education was the key to the future of these families and the nation. He had said his plan would 'tear down the barriers that are contributing to our nation's increasing income inequality and hurting our economic growth.'
Krishnamoorthi had said his plan would be fully paid for by cutting unnecessary military programs, including, but not limited to, littoral combat ships and the Osprey tilt rotor aircraft. He argued that this could free up tens of billions of dollars in the next decade that would be better invested in helping more students attend college.
'As the child of immigrants to this country who struggled financially to get by, loans and scholarships enabled me to get a higher education,' he had said. 'Unfortunately, it's becoming more and more difficult for families like mine to afford a higher education today. By changing our spending priorities in Washington and providing the right incentives to families and businesses, we can make sure that the next generation of Americans has the tools and knowledge they need to succeed.'
With regard to the Affordable Care Act or Obamacare, which is being slammed by Republicans and other critics since the premiums are expected to rise by more than 25 percent, Krishnamoorthi said he would work in Congress to tweak this legislation to make it work better for the millions of Americans who earlier had no health care insurance at all.
"I believe it will be a priority for many people because we have to ensure that the Affordable Care Act offers affordably priced premiums for working families," he said. "The biggest priority is to make sure that younger, healthier people join the ACA and broaden the risk pool and help to reduce premiums."
But, he argued, "That has to be done in a bi-partisan fashion and I sincerely hope that we can work with people across the aisle on this challenge."
And with regard to US-India ties, Krishnamoorthi had said, "Obviously, I am a very strong proponent of bolstering these ties. I am excited that India and the US are engaging with each other on multiple levels -- not only from an economic standpoint, but most importantly, from a people-to-people and cultural standpoint."
He had added, "You may know this already, but there are only three non-stop direct flights to India from the United States. One is from Newark, New Jersey, and others are from JFK (Airport in New York) and Chicago. I've spoken with the station chiefs here for that non-stop direct flight, and they say that it is a hot ticket to say the least. It's not just Indian Americans going to India. Apparently, half of the plane-loads are people of other ethnicities and that's a good thing because the more people of the United States and the people of India get to know each other, get to do business with each other, the better off the relationship would be. I am very excited about that, and I am all for encouraging and supporting these people-to-people connections."
With inputs from Aziz Haniffa
Image: Raja Krishnamoorthi after he won the Democratic primary earlier this year. He was always the front runner from the 8th Congressional District of Illinois. Photograph: Courtesy: facebook.com/rajaforcongress