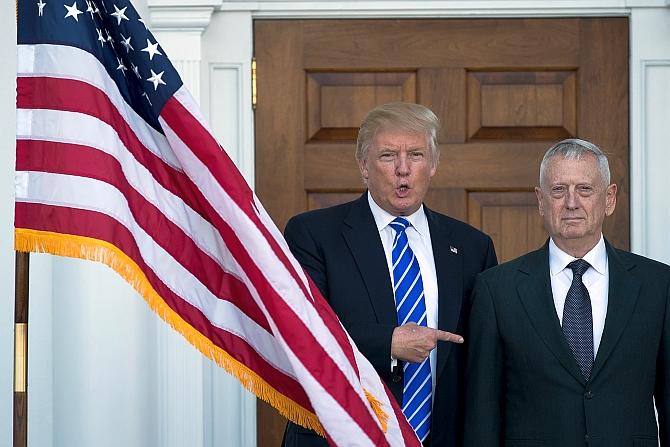 The new American Defense Secretary Gen James "Mad Dog" Mattis (Retd) has vowed to strengthen the economic and military ties with allies and "gain full value from every taxpayer dollar spent on defense".
"Every action we take will be designed to ensure our military is ready to fight today and in the future," Mattis said on Friday in a message to department of defense soon after he was being sworn in as head of the Pentagon by Vice President Mike Pence at the White House.
"Recognising that no nation is secure without friends, we will work with the State Department to strengthen our alliances," Mattis said.
"Further, we are devoted to gaining full value from every taxpayer dollar spent on defense, thereby earning the trust of Congress and the American people," he said.
A retired US marine Corps general, Mattis was sworn in after the Senate confirmed his nomination in a series of swift moves after Trump became the 45th President of the United States.
"It's good to be back and I'm grateful to serve alongside you as Secretary of Defense," he said in his first message to the Department of Defense. "Together with the Intelligence Community, we are the sentinels and guardians of our nation.
"We need only look to you, the uniformed and civilian members of the Department and your families, to see the fundamental unity of our country," he said.
"You represent an America committed to the common good; an America that is never complacent about defending its freedoms; and an America that remains a steady beacon of hope for all mankind," Mattis said.
The White House also announced to end the defense sequester and submit a new budget to Congress outlining a plan to rebuild American military.
"We will provide our military leaders with the means to plan for our future defence needs," it said.
"We will also develop a state-of-the-art missile defence system to protect against missile-based attacks from states like Iran and North Korea," the White House said.
Noting that cyberwarfare is an emerging battlefield, and that the US must take every measure to safeguard its national security secrets and systems, the White House said the US will make it a priority to develop defensive and offensive cyber capabilities at its Cyber Command, and recruit the best and brightest Americans to serve in this crucial area.
During his Senate confirmation hearing last week, Mattis had said that India is of utmost importance for the US.
"US policy should continue to pursue a long-term strategic relationship with India based in convergence of our interests and our shared democratic values," he said.
In his written answers to the questions submitted by members of the Committee, Mattis noted that the US and India recently cemented India's status as a Major Defense Partner.
"If confirmed, I would assess what particular areas in the bilateral security relationship I should focus, and what steps can be taken to bolster the overall defense relationship," he said.
India is the world's largest democracy, and "our relationship with it is of utmost importance. In my view, and particularly on security and defence issues, the US-India relationship has been strengthened in recent years," he said, adding cooperation on defense and trade and technology has grown to the benefit of both countries under the Defence Technology and Trade Initiative.
Expressing concern over the continuation of terrorist safe havens inside Pakistan, he told lawmakers that co-operation with Islamabad among others would focus on the need to "expel or neutralise" externally-focused militant groups within its border.
He said he will work with the State Department and the Congress to "incentivise Pakistan's co-operation on issues critical to our national interests and the region's security, with focus on Pakistan's need to expel or neutralize externally-focused militant groups that operate within its borders".
Mattis said Pakistan has "learned some hard lessons" because of its dealings with the Afghan Taliban, as violence in that country reflects.
"I believe they should do more to collaborate with their neighbour. We should urge Pakistan to take further actions against the Taliban and the Haqqani network.
"Sanctuaries and freedom of movement for the Afghan Taliban and associated militant networks inside Pakistani territory is a key operational issue faced by the Afghan security forces.
"If confirmed, I will examine efforts to deny sanctuary to the extremist forces undermining the stability and security of Afghanistan," he said in response to a question.
-- FULL COVERAGE: THE ERA OF TRUMP BEGINS