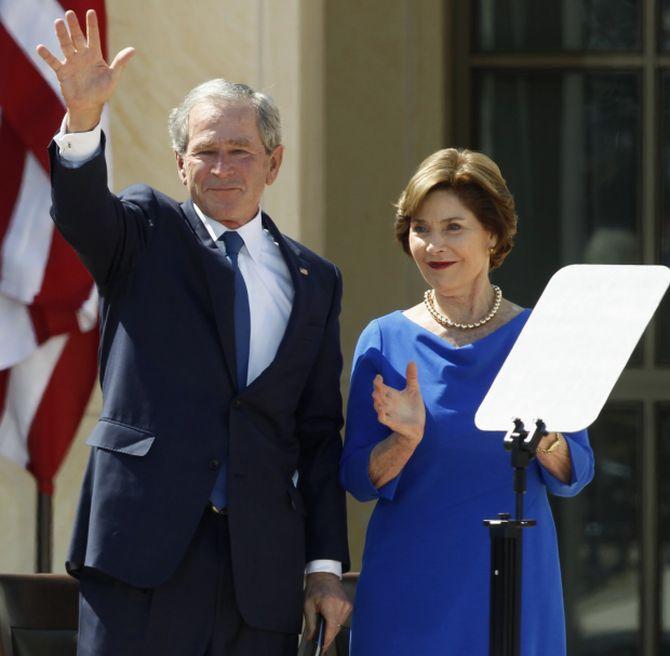 In an unusual break from custom, former United States president George W Bush and his wife Laura did not vote for either Donald Trump or Hillary Clinton.
Bush and his wife did not vote for either major-party presidential nominee this year, a spokesman for the former president told the Texas Tribune.
Instead, they voted for Republicans down ballot.
"They didn't vote for Hillary; they didn't vote for Trump," spokesman Freddy Ford wrote in an e-mail to The Texas Tribune after radio host Rush Limbaugh suggested that the Bushes had voted for Clinton.
Neither George W Bush nor his father, fellow former President George H W Bush, endorsed their Republican Party's nominee Trump.
Speculation was rife that the Bush senior was planning to vote for Clinton.
-- FULL COVERAGE: US ELECTION 2016
"We are not commenting on the presidential race," Jim McGrath, a spokesman for George HW Bush, said in an e-mail.
When asked to react to the news, Trump said, "'I think it's sad."
"When I see George Bush do that, and look I was very critical of him for getting us into Iraq, which was obviously a horrible decision, and getting out the way Obama got us out was a horrible way to get out too -- the combination."
But Trump was philosophical about the impact of the ex-President's vote, adding: "I don't think it has any impact, frankly. I think it has no impact."