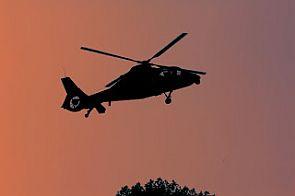 The United States Marine Corps helicopter that crashed in Nepal while carrying out earthquake relief last month killed 13 people, including a woman, and not eight, the Nepalese army said on Friday
The army said that five civilians, who had gone missing from Singati of the quake-battered Dolakha district, were on board the UH-1Y Huey that crashed on May 12.
The helicopter had crashed in Ghorthali village of Sindhupalchok district while delivering aid to people hit by two major earthquakes in Nepal. There were 13 people, including six US Marines and two soldiers from the Nepalese army, on board the chopper, said a statement by the army headquarters
Nepal Army has verified that the five persons, including a woman, reported missing from Singati died in the crash, it said. Relatives had been enquiring about the whereabouts of the civilians after they could not locate them even two weeks after they were rescued, leading to suspicions that they could be on board the flight.
Earlier this week, a team reached district headquarters Charikot to collect DNA samples of the missing persons' relatives. The statement said DNA tests and investigations found that local villagers were also on the chopper.