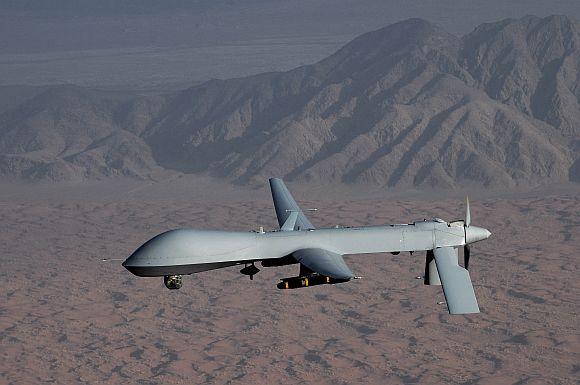 The United States has started the New Year with successful drone strikes in the tribal areas of Pakistan that have so far resulted in the killing of five leading terrorist commanders -- both from 'good Taliban' and 'bad Taliban'. Tahir Ali reports.
On Sunday, at least 12 suspected terrorists were killed as three United States drones strike their three different hideouts in the wee hours in the restive tribal district of South Waziristan, intelligence officials there said.
According to sources, the strikes took place in the Bobar area of South Waziristan, when the drone fired 10 over Tehrik-e-Taliban Pakistan training compounds at the Bobor Ghar area of the Shaktoi subdivision.
However, they did not give details on how many terrorists were killed in each of the strikes. The compounds were being used by to train newly recruited TTP and Punjabi Taliban-linked terrorists known as 'bad Taliban'.
According to a TTP linked commander based in Miranshah, three leading TTP commanders are believed to be killed in the strikes.
"We have the information that three commanders -- Omer, Commander Khan Saeed alias Sajana and Commander Tuffani Mehsud -- have been targetted in the attacks. It's indeed a major blow to our organisation", he said on telephone while talking to rediff.com.
Tuffani was the successor of TTP former Suicide squad head, Qari Hussain Mehsud who was killed in US drone strike on October 7, 2010 in North Waziristan. 
Mehsud is also believed to be the trainer of turncoat Jordanian origin Central Intelligence Agency operative Abu Hammam, who carried out a suicide bombing that killed seven American CIA officials at Combat Outpost Chapman in Khost province in December 2009.
Saeed alias Sajana was a deputy of Wali-u-Rehman Mehsud, TTP's current deputy head, who ran Bobar training camps. According to TTP sources, Sajana is the mastermind of the Bunnu jailbreak operation in April last year, in which almost 390 Taliban inmates had escaped, including Adnan Rashid, an official of the Pakistan air force, who was involved in plotting the assassination of former president Pervez Musharraf.
The first achievements of drone strike in 2013 came, when on January 3, Mullah Nazir, a 'good' Taliban commander was killed in South Waziristan along with his deputy Rifa Khan. Nazir's main focus was infighting in Afghanistan, and he was against any action to be taken by Pakistani security forces.
The US drone strikes are publicly criticised by the Pakistani government as a violation of sovereignty, but American officials believe they are a vital weapon in the war against Islamist terrorists. 
Reacting to the drone strike that killed Nazir, a spokesperson from the Pakistan foreign office said, "The attacks were illegal, unacceptable and against Islamabad's sovereignty."  He added, "Pakistan had been in contact with various organisations including the Geneva-based Human Rights Council with regard to its position over the drone strikes."
Recently, a report commissioned by legal lobby group Reprieve in September estimated that between 474 and 881 civilians were among 2,562 to 3,325 people killed by drones in Pakistan between June 2004 and September 2012.
In 2012, US drones carried out 46 strikes compared with 2011, where 72 such attacks had taken place.