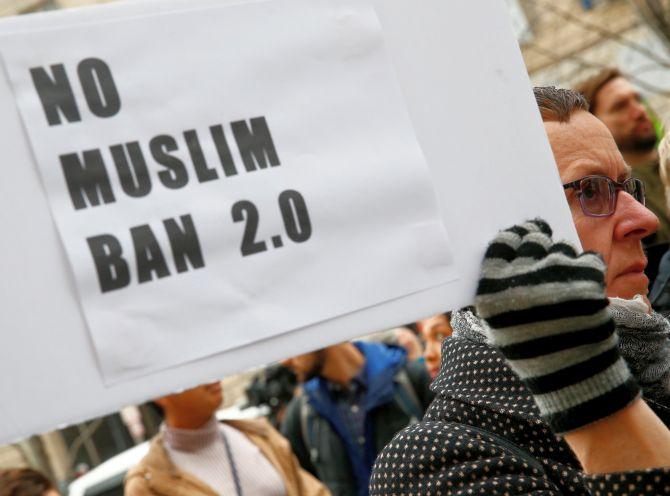 A United States federal appeals court upheld a ruling blocking President Donald Trump's travel ban against six Muslim-majority countries.
A majority of judges on the appeals court, in a 10-3 decision, said they were "unconvinced" the travel order had more to do with national security concerns than a "Muslim ban."
The ban was announced in March, but never got off the ground because federal courts blocked it just hours before it was set to go into effect. It would have banned people from Iran, Libya, Somalia, Sudan, Syria, and Yemen from entering the US for 90 days and all refugees for 120 days.
Trump first tried to implement the travel ban by signing an executive order on January 27. That order was in effect for seven days before it was blocked by a federal judge in Seattle, a ruling upheld by the 9th Circuit.
Rather than appeal to the Supreme Court, Trump revoked his first travel ban and issued a revised version on March 6. That order was blocked by federal judges in Hawaii hours before it went into effect, and another judge in Maryland blocked the order as well. The Justice Department appealed both rulings.
Now that the Trump administration has lost in the 4th circuit, the Justice Department could appeal to the Supreme Court. The high court, now at full strength with the addition of Trump's nominee, conservative Justice Neil Gorsuch, has divided in the past on immigration issues. Those 4-4 ties, which were commonplace following the death of Justice Antonin Scalia, could tilt in Trump's favour with Gorsuch on the bench.
Image: Immigration activists rally against the Trump administration's new ban against travelers from six Muslim-majority nations. Photograph: Eric Thayer/Reuters