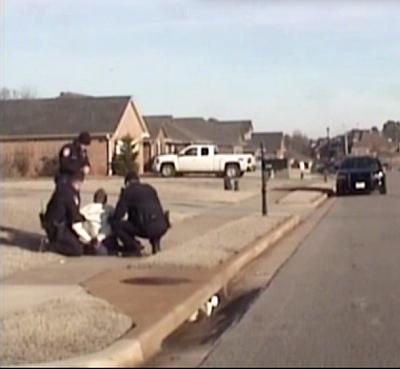 After a hue and cry from the Indian community, Madison (Alabama) police chief Larry Muncey announced that officer Eric Parker, who brutalised 57-year-old Sureshbhai Patel on February 6, has been arrested and charged with third degree assault.

"Officer was wrong, I apologize," he said at a press conference, February 12.
Chief Muncey said the FBI is conducting a parallel inquiry to ascertain if there were any federal violations.
Parker was also fired from his job for his use of force against a man who committed no crime, did not speak English and could not understand the police commands.
The community was in disbelief that an elderly man who had done no crime other than walking on the sidewalk, would be brutalised savagely, paralysing him with fused vertebrae.
Community organizations have condemned the inhuman attack pointing out that the officer lacked common sense or racial bias might have played a role in the attack.

The government of India has taken up the issue through diplomatic channels and the Indian consulate in Atlanta deputed Consul Anil Kumar to assist the family of the victim.

The mainstream media too played an exemplary role in support of the hapless victim.
The police authorities themselves found the incident distasteful. On February 9, they came out with a statement, wishing him speedy recovery, but also trying to justify the officer, which irked attorney Hank Sherrod who filed a civil suit against the city and two officers on February 12.

Sherrod welcomed the dismissal of the officer and said that they should have done this February 9 (Monday) itself rather than trying to blame Patel.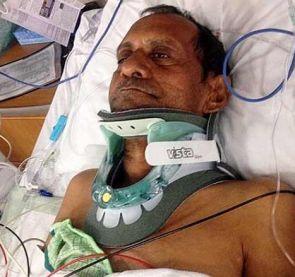 "We are outraged that the city would release an account of the incident that falsely tries to put the blame on Patel," he told rediff.com. "I am glad they apparently are starting to do the right thing. But why weren't doing this on Monday? With those videos," he asked.
"Dad came to the US a few days ago only, on a green card," his son Chirag Patel, a software engineer working in nearby Huntsville told rediff.com.

The green card application of his mother, who is in the native town of Pij in Gujarat is in the final process.
Chirag said his father used to walk outside whenever possible.

On Friday, February 6, Chirag left for office when his dad said he was just going outside. By 9:30 am, a staff from the local hospital called him saying that his dad was admitted with severe injuries.
Chirag, their only child, who came to the US ten years ago found his father paralyzed and in writhing pain.
Patel was transferred to HuntsvilleHospital for cervical fusion surgery.

Chirag said on February 11 that his father could move his arms again, but lacked grip in his hands. He could move one leg, but the other remained paralysed. He needs long term physical therapy.