China and the US flexed their naval might by deploying aircraft carriers in a rare showdown in the Taiwan Strait, the narrow channel that separates the Chinese mainland from Taiwan, as Beijing fumed over US House Speaker's meeting with Taiwanese President Tsai Ing-wen in Washington.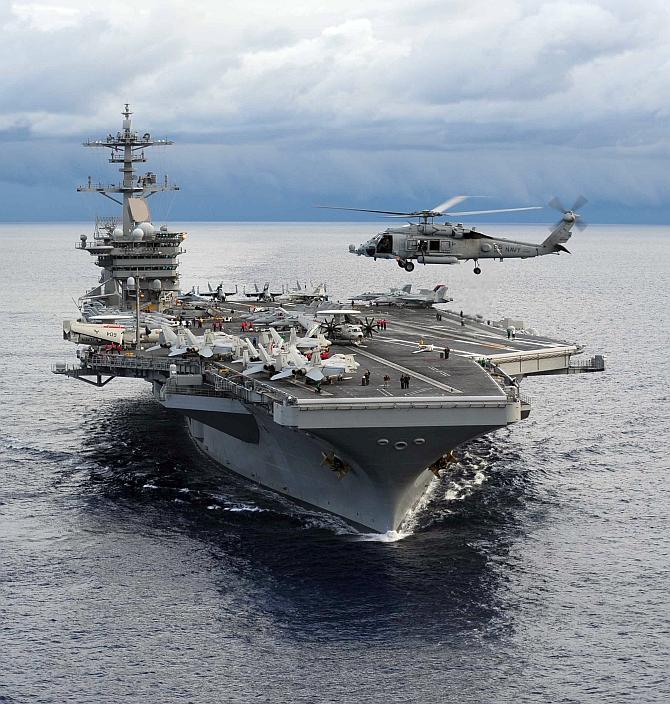 The Taiwanese defence ministry said a Chinese naval fleet led by the Shandong aircraft carrier passed through the Bashi Channel -- which runs between the island and the Philippines -- before reaching the waters southeast of Taiwan.
The carrier was heading to its first manoeuvres in the western Pacific, the Hong Kong-based South China Morning Post reported on Thursday.
Taiwan's Defence Minister Chiu Kuo-cheng said the aircraft carrier USS Nimitz was positioned some 400 nautical miles (740.8km) off eastern Taiwan.
"We can't say for sure if (the Nimitz) was there because of the Shandong, but it could be something related to the way it was there," the Post reported.
Tsai's meeting with US House Speaker Kevin McCarthy -- the third most senior official in the US -- on Thursday took place against the backdrop of repeated warnings from Beijing to Washington that it should not go ahead.
It was the second high-profile meeting between an American official and the island's leader.
China, which claims Taiwan as part of its mainland, mobilised a large naval fleet in Taiwan Strait and fired missiles over the island when then US House Speaker Nancy Pelosi visited Taiwan, ignoring Beijing's warnings of crossing the redline eight months ago.
China again braced for a similar showdown to highlight its resentment of Pelosi's successor Kevin McCarthy's meeting with Tsai this time in Washington.
China for its part is hosting Taiwan's former president Ma Ying-jeou, who is a pro-Beijing politician.
Ma, who was president of Taiwan from 2008 to 2016, on Wednesday visited a deep water port in Shanghai on the last leg of his mainland trip, as the Chinese navy launched patrols near the self-ruled island.
The Chinese foreign ministry for its part denounced the Tsai-McCarthy meeting, accusing the US of "providing a podium for Taiwan separatists to carry out official exchanges between US and Taiwan and enhance ties between the US and Taiwan".
The foreign ministry statement said Taiwan issues were "the first red line in China-US relations which must not be crossed" and Taiwan independence would "come to a dead end".
The Chinese defence ministry too weighed in saying the PLA "maintains a high level of vigilance at all times, resolutely defends national sovereignty and territorial integrity, and resolutely maintains peace and stability across the Taiwan Strait".
Taiwan's Defence Minister Chiu said the Shandong was detected some 200 nautical miles (370.4km) off Olanpi in southern Taiwan and was on a "training mission".
"Because of the sensitivity [of the issue] at this time, we are still studying the motive of the Chinese Communists, and there are several possibilities of which we have already worked out countermeasures for preparation. But it is not convenient for us to give more details," he said.
"Regarding the content of Shandong's mission, it should include warplane take-off and landing, but so far we have not detected such situations. We will continue to monitor its movement."
China also hit back at NATO leader Jens Stoltenberg over his criticism of its position on Ukraine, questioning the security alliance's own involvement in military conflicts.
Stoltenberg cautioned Beijing against sending ammunition to Moscow, saying it would be a "historic mistake with profound implications", and repeatedly used the phrase "severe consequences" to describe NATO's reaction if Beijing were to send military aid to Russia, the Post reported.
"There's no reason to go into details, but China knows that there will be severe consequences," he said.
China's mission to the EU criticised his remarks, saying "we have noticed Stoltenberg's remarks and firmly oppose NATO's repeated slander and attacks on China".
Also, French President Emmanuel Macron who met Chinese leader Xi Jinping in Beijing on Thursday was expected to convey the European Union's concerns over any military action against Taiwan similar to Russia's invasion of Ukraine.