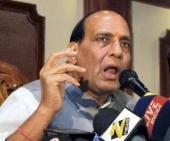 Bharatiya Janata Party president Rajnath Singh on Monday alleged that the United Progressive Alliance government extended a red carpet welcome to Pakistan Prime Minister Raja Pervez Ashraf during his personal visit to Ajmer Sharif, when it should have scaled down relations with Islamabad after the killing of two Indian soldiers.
"Our soldiers were killed by Pakistani forces. Pakistan has not taken any action against terror outfits based in that country," Singh said.
"And, instead of registering a strong protest, what is our government doing? Our UPA government is rolling out the red carpet for the Pakistani prime minister. Our external affairs minister is hosting a lunch for him and he is being served biryani," Singh said.
"This kind of soft stance on Pakistan is nothing but killing our martyred soldiers for a second time," he said.
"We should pressurise the Pakistani government to stop anti-India terror activities on its soil. But our government is more bothered about Confidence Building Measures," he said.
"These should be stopped till Pakistan takes strong measures against terrorist organisations," Singh said.
"We had demanded that diplomatic relations with Pakistan be scaled down for the time being, when two Indian soldiers were brutally killed. There is no need for relations when our soldiers are brutally murdered in violation of all international norms and ceasefire," the BJP president added.