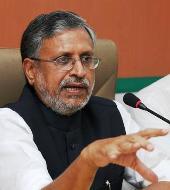 The deputy chief minister and senior Bharatiya Janata Party leader Sushil Kumar Modi on Tuesday said the Central government was unlikely to deliver special status to Bihar before the general elections. "The United Progressive government is gasping for breath to survive and it cannot deliver the special status to Bihar before next general elections that could take place as early as November," he told mediapersons on the sidelines of his Janata Durbar.
Reacting to Union Finance Minister P Chidambaram's promise to set up a sub-committee headed by Chief Economic Advisor Raghuram Rajan to frame criteria for backwardness in order to accommodate the special status aspiration of Bihar, the deputy finance minister said that the former's announcement to this effect during his recent visit here last week was nothing new as he had said as much during his budget speech on February 26.
Describing Chidambaram's announcement as a 'delaying tactics', Modi said that by the time the said committee under Rajan submitted its report on the criterion for backwardness of the states, the government will get into the poll mode for the general elections and was unlikely to grant special status to Bihar due to imposition of the model code of conduct.
As far as he was concerned, the special status demand of Bihar had been pushed into limbo by the 'non-serious' UPA government for the time being, he alleged.
When his attention was drawn to the fact that the chief minister and senior coalition partner, the janjata Dal-United, had effusively welcomed Chidambaram's move on the special status, the Modi refused to get drawn into any controversy and said that as far as he was concerned, he could make out that the Centre was delaying grant of special status to Bihar.
The grant of special status to a state was a political decision as it will require an approval by Parliament, he added.