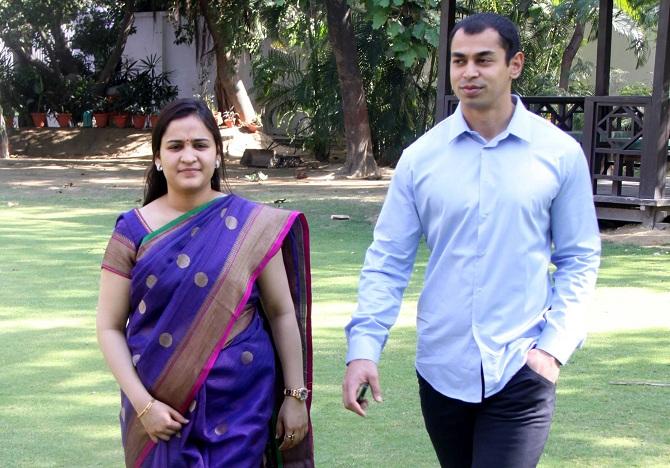 Aparna Yadav, wife of Mulayam Singh Yadav's second son Prateek, was on Monday fielded by Samajwadi Party from Lucknow Cantt constituency, making it a high profile contest as she will take on the Bharatiya Janata Party's Rita Bahuguna, who had won the seat in the last assembly polls.
Aparna, 26, the latest entrant from the Yadav clan, figured in Samajwadi Party's fourth list of 37 candidates for the Uttar Pradesh assembly polls.
The wife of the step-brother of SP president and Chief Minister Akhilesh Yadav will cross swords with 67-year-old Rita, former state Congress chief who had won the seat in the 2012 assembly polls.
Daughter of Congress stalwart and former state Chief Minister H N Bahuguna, Rita quit Congress in October last year to join the BJP, after which she resigned as the legislator.
Aparna, a political greenhorn who has the backing of the ruling SP, has been nurturing the constituency under the banner of a non-governmental organisation.
Although Aparna's candidature was announced much earlier, the internecine tussle in Samajwadi Party and emergence of Akhilesh Yadav as the new party president had made her ticket unsure till it was announced on Monday.
The Bahujan Samaj Party has fielded Yogesh Dixit making the fight triangular in the constituency which will go to polls in the third phase on February 19.
In the last polls, Bahuguna, contesting on Congress ticket, had defeated BJP's Suresh Chandra Tewari by a margin of over 21,000 votes. She remained active in the constituency all along.
Aparna, whose husband is a businessman with big real estate interests, feels that since she is the joint candidate of SP-Congress coalition, it will give her added strength.
"People of the constituency know what work has been done there by their representative till now...they have seen how I have been working ever since I was given the responsibility of the seat by my party," Aparna said.
She said her contribution has also been lauded even by her adversaries.
"Ritaji herself wrote a letter of appreciation to me for raising voice in Nirbhaya case. Her tone changed when my party directed me to contest from here. I am sure to win as people have seen me working without being an MLA," Aparna said.
On the other hand, Rita said people understand the difference between personal contribution and what it meant to be just a member of a particular family.
"In fact, I want her to contest, people should realise being just member of the ruling family does not mean you have an electoral presence and you can succeed," she said.
"I have struck a personal relationship with the constituency and with the people of the area over these years and they know as to how I have been with them all through," she said, hoping that her personal rapport with the voters would see her through.
This time round, she has the additional advantage of BJP's organisational network which will help in pipping her opponent to the post.
"Lucknow as a whole has been loyal to BJP all along, electing its nominee for last five terms. I think it should not be difficult for me to win," she stressed.
In its fourth list released by SP state president Naresh Uttam, candidates were also declared for Varanasi, Chandauli, Ghazipur, Jaunpur, Ballia, Kannauj, Lucknow, Fatehpur, Sant Kabir Nagar, Gorakhpur and Azamgarh.
The party gave ticket to Rajesh Kushwaha from Ghazipur in place of sitting MLA and minister Vijay Mishra.
Former minister Shadab Fatima, close to SP leader Shivpal Yadav who was sacked by Chief Minister Akhilesh Yadav, was also denied ticket from Jahurabad seat (Ghazipur) and Mahendra Chauhan replaced her from the seat.
The party also changed its candidate from Gopalpur seat (Azamgarh) and gave ticket to Nafis Ahmad in place of sitting MLA and state minister Wasim Ahmad.
Capping days of feverish parleys, Congress and Samajwadi Party forged an alliance to contest the UP assembly polls together, with the ruling party leaving 105 of the 403 seats for its alliance partner.
Though SP has so far given tickets to 324 candidates, it will ask its nominees to withdraw from those constituencies it has offered to Congress as part of seat-sharing agreement.
The SP will contest 298 seats under the arrangement.
Meanwhile, Akhilesh, in his new role as SP national president, will kick off his party's election campaign from Sultanpur on Tuesday, enthused after his victory in the power game within the Yadav clan.
"Akhileshji will address a rally in Sultanpur tomorrow (on Tuesday)," SP Spokesperson Rajendra Choudhury said.
This will be the chief minister's first election rally in the state after he was coroneted as the head of the ruling party, replacing father Mulayam Singh Yadav, who has been made SP patron.
As Sultanpur figures in the fifth phase of polling on February 27, Akhilesh's decision to start the campaign from there left party workers wondering as to why he ignored the places going to polls in the first or second phase.
Senior party leaders also did not say anything on this.
Choudhury said Akhilesh will address another rally in Lakhimpur on January 25 and added that detailed tour programmes of the CM would be announced very soon.
Five constituencies in Sultanpur district will go to polls in the fifth phase on February 27.
Akhilesh released the 'please all' SP manifesto on Sunday with focus on women and youth empowerment and has been busy finalising list of candidates after forging an alliance with Congress 'to keep communal forces at bay'.
IMAGE: Aparna and Prateek Yadav. Photograph: Kind courtesy Aparna Bisht Yadav/Facebook.com