Bharatiya Janata Party President Amit Shah on Wednesday dubbed the Congress, the Samajwadi Party and the Bahujan Samaj Party as "KASAB", adding yet another acronym in the Uttar Pradesh poll campaign, and said development will elude the state till "Kasab is laid to rest".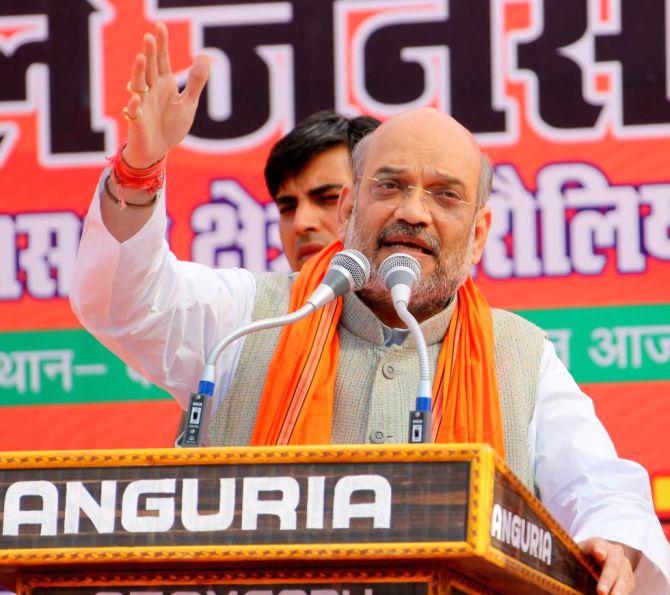 Elaborating on the acronym at an election meeting here, he said, "Ye Uttar Pradesh ki janata is baar ke chunav mein is Kasab se mukti paa le. Main phir se bolta hu Uttar Pradesh ki janata is baar ke chunav mein is Kasab se mukti paa le. Kasab se mera matlab kuch aur mat nikaliyega. Kasab se mera matlab hai -- KA se Congress, SA se Samajwadi Party aur B se BSP." (In this election, people of UP should get rid of Kasab. I say it again, people of UP should get rid of Kasab. Do not take any other meaning when I say Kasab. What I mean by KASAB is -- KA for Congress, SA for Samajwadi Party and B for BSP.)
Shah made these comments while seeking to draw a parallel between the rival parties and the Mumbai attack perpetrator Ajmal Kasab.
"Until and unless Kasab is laid to rest, development and prosperity will continue to elude the poll-bound state.
"In other words, it means that the state may have to languish further, if there is no respite from these political parties," he said.
Prime Minister Narendra Modi has coined 'SCAM' for SP, Congress, Akhilesh and Mayawati, and dubbed BSP as 'Behenji Sampatti Party'. BSP supremo Mayawati has described BJP as 'Bhartiya Jumla (rhetoric) Party' and punned with Modi's initials saying they stood for "Mr Negative Dalit Man."
Uttar Pradesh Chief Minister Akhilesh Yadav had his own explanation for SCAM -- Save Country from Amit Shah and Modi.
The BJP President exuded confidence that the party would storm to power in Uttar Pradesh with two-thirds majority.
"Voters of the state are fed up with misrule under successive SP and BSP governments, which lasted for nearly 14 years, and they are desperately seeking a change," he said.
Taking a jibe at UP Chief Minister Akhilesh Yadav, he said, "Akhilesh says 'kaam boltaa hai (performance speaks), but no work appears to have been done so far. But, the state has emerged as number one in terms of crime against women, rape, loot and hooliganism."
Shah claimed that the SP already knew it was fighting a losing battle in the UP polls, and hence it went for a pre-poll alliance with the Congress.
"If the state government had done something concrete and was confident about its performance, there would have been no need for alliance (with Congress)," he said.
He also termed Congress Vice-President Rahul Gandhi and Akhilesh as two princes -- one giving tough times to his mother and the other to his father. And the voters of UP are feeling troubled by both of them, Shah added.