'We provided more electricity during Diwali vis-a-vis Eid because there is no load on electricity during Diwali.'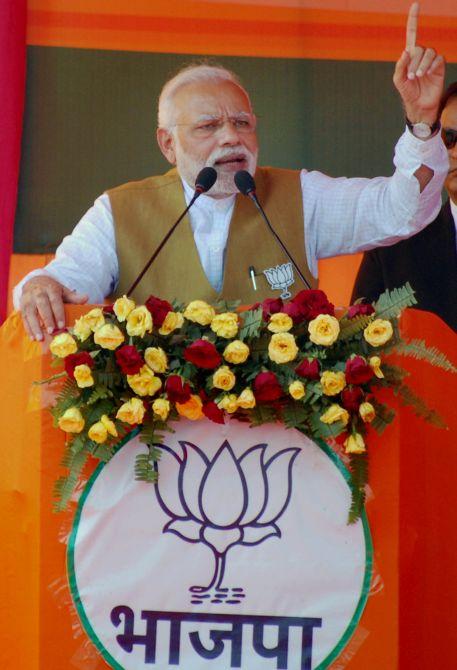 IMAGE: Prime Minister Narendra Modi addresses an election rally in Fatehpur, UP, February 19, 2017. Photograph: PTI Photo
'Gaon mein agar kabristan banta hai, to gaon mein shamshaan bhi banana chahiye. Agar Ramzan mein bijli milti hai, toh Diwali mein bhi milni chahiye. Agar Holi mein bijli milti hai, to Eid par bhi bijli milni chahiye. Bhedbhav nahin hona chahiye (If a village gets a graveyard, it should get a cremation ground too. If there is electricity during Ramzan, there should be electricity during Diwali too. If there is electricity during Holi, there should be electricity during Eid too. There should not be any discrimination).'
--Prime Minister Narendra Modi, while addressing a rally in Fatehpur, Uttar Pradesh, February 19.
Rediff.com's Syed Firdaus Ashraf spoke to Shailendra Dubey, chairman, All India Power Engineers Federation, to ascertain the truth about electricity supply in UP.
Can you tell us about the criteria when distributing electricity during festivals in Uttar Pradesh?
The effort during every festival in Uttar Pradesh is to provide maximum electricity.
This is not new, but is being followed for the last 20 years.
Now the festival of Diwali is held during the last week of October or the first week of November, when the demand for electricity is less.
There is no load of air-conditioning or heaters because the weather is pleasant. We have surplus electricity during Diwali.
Also, during Diwali, factories are shut for three days and so are most offices.
Therefore, there is no problem to give electricity to people during Diwali.
What about electricity distribution during Eid vis-a-vis Diwali in 2016?
On July 6, 2016, people were celebrating Eid.
On that day, we supplied 13,500 MW electricity and during the Diwali week -- from October 28 to November 1 -- we supplied electricity for 24 hours to all urban and rural areas to the tune of 15,600 MW.
So, it is but natural that we provided more electricity during Diwali vis-a-vis Eid because there is no load on electricity during Diwali.
However, I must add that politics should be kept away from this subject because electricity must not become a victim of votes and money.
This is a highly technical field and it should be left to the technicians.
What is the daily demand for electricity in the state and how much of it is met?
During the summers in Uttar Pradesh, the demand for electricity is about 16,000 MW and in winters, the demand is around 13,000 MW.
During Eid, the demand was for 15,000 MW, but we could not fulfill that and we could only give 13,000 MW of electricity.
In the coming summer, we feel the demand would be around 18,000 MW.
How does your department decide and prioritise the distribution of electricity during festivals?
Diwali is the festival of lights and therefore we give maximum electricity on this day.
After that we have Navratri when Durga Puja is held and then the month of Ramzan.
During other festivals like Bakri Eid or Holi, we try to give maximum electricity.
We also highlight in newspapers that electricity will be given to full capacity on festive days.
Does your department take these decisions independently or does the state government weigh in on it?
We are an independent authority, but during festivals, the central government too plays a role.
There are central government power plants and every state has a quota of electricity from which they can withdraw electricity.
When we need more electricity it is the central government that can distribute it according to its discretion.
But I will reiterate again, Diwali is at a time when the demand for electricity in northern India is low.
People do not use their rotating fans because the weather is pleasant and we do not face that much electricity load too.
IMAGE: In India, 80 million homes and 300 million people do not have electricity. Photograph: Kamal Kishore KK/CP/Reuters
Do you mean to say that if Eid occurred in the months of October and November, you wojld be able to supply more electricity?
Yes. We will be able to give more power for Eid too if that were the case.
The distribution of electricity has got nothing to do with politics, but with the weather.
If the weather is pleasant, then automatically there will be less consumption of electricity.
And it is just that Diwali comes at a time when the weather is pleasant in northern India.
If a festival occurs during December, then the demand for power is more.
But three festivals -- Holi, Dusherra and Diwali -- occur at a time when it is neither hot nor cold.
When you heard the prime minister's remark, did you feel it was a political statement?
It was 100 per cent a political statement.
Therefore, I have come out in the open and given the actual data.
We have got 20 years of data and you will find that always there is more power supply during Diwali than Eid because Diwali comes at a time when there is no demand for electricity.
What is the demand for electricity in Uttar Pradesh and how much is the shortfall?
There is less shortage of electricity in Uttar Pradesh now.
On many days we have more electricity and less demand.
We have 24 hours power supply in places like Lucknow and Noida.
In residential areas, too, if there is a power cut, then that is due to some local fault.
So are we producing more electricity?
Today in India the generation capacity of electricity is 3 lakh MW and the demand is 1.5 lakh MW. So demand itself is less.
Like in Uttar Pradesh, in peak summer, the demand is 18,000 MW. Uttar Pradesh generates 5,000 MW.
From the Centre, we get 6,000 MW and another 5,000 MW we get from the private sector in UP.
So the total is 16,000 MW.
And to fill the gap of 2,000 MW we buy power from other private companies.
We have got 20 years of data and you will find that there is more power supply during Diwali than Eid because it comes at a time when there is no demand for electricity
What is the reason of the shortage of electricity in summers then?
The shortage is because of bad inter-state relations.
The inter-state electricity grid is not working to its full capacity.
Like, there is sufficient electricity in Maharashtra, Gujarat and Madhya Pradesh, but we cannot draw that electricity into Uttar Pradesh.
The formation corridor is overloaded.
The Power Grid Corporation of the central government is working on it and also the state power companies are working on it, but it will take few years to solve this problem.
Many villages in India don't have electricity.
There is a difference here. There is electricity in the villages, but there is no electricity in the homes of villagers.
The definition of the central government is that if there is an electricity pole in the village, then that village has electricity.
But the question is, how many homes in that village have electricity?
This is a worrisome situation.
In India today, there are 8 crore homes which have no electricity and that population comes to around 30 crore people.
Why has electricity not reached these people?
We have been raising these questions time and again to the state governments and central governments, that we have the generating capacity, but still cannot distribute electricity.
It is an unfortunate situation.
In many states, power stations are shutting down because there is no demand for electricity.
In Uttar Pradesh, we shut down a 2,500 MW power plant.
In Gujarat, a 5,000 MW power plant was shut down and the same is the case of Maharashtra, Madhya Pradesh, Haryana and Punjab because there is no demand.
How can there be no demand when people don't have electricity in their homes?
The answer is simple. People don't have electricity connections in their home.
So when they have no electricity connections, then how can we have demand?
So who is responsible for bringing electricity to people's homes?
It is the government's job.
Therefore, I said earlier, there should not be any electricity politics, it should not be played and politicians should steer clear of this issue.
These are technical issues and should be solved technically.
Does it mean that while India produces enough electricity, the cable lines to people's homes have not been laid by the government?
The answer is that is not the priority of the government.
Could it be that the people may not be able to pay the electricity bill which is why they don't want it, so it is not just a distribution problem?
Till the time we do not strengthen the distribution network of electricity, 30 crore people will live without electricity in India.
Don't your raise these issues with the ministers?
We do raise these issues when we meet them.
We feel the answer to this is that there should be no politics on electricity.
Only then can this problem be solved.
Don't miss the features in the Related Links below...