In his bid to transform Uttar Pradesh's 'poor law and order' image, Akhilesh Yadav on Sunday sought to showcase how the tech-savvy chief minister in him was out to use technology to control the unabated crime in Lucknow.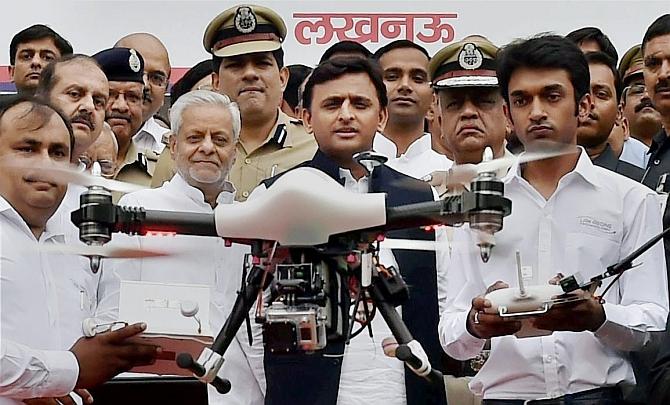 The exercise began with the inauguration of a state or art high-tech police control room in Lucknow -- with a wherewithal that is stated to be unparalleled in the country.
Apart from monitoring facility for 5,000 close circuit cameras installed in different parts of the state capital, the control room is also equipped with drones which will make the capital of India's most populous state the country's first smart city with a unique police surveillance system.
While 300 multi-dimensional close circuit cameras have been installed by the Lucknow police, as many as 4,500 smaller cameras have been put up by corporate houses, traders, commercial establishments and some other organizations to ensure round-the-clock surveillance.
All cameras are connected to the central monitoring system displayed on 24 screens in what is called the command centre.
According to district police chief Yashashvi Yadav, "The idea took birth with the chief minister's insistence on improving the police response mechanism. The CM told me one day that if the new ambulance service launched by him could reach a patient within 20 minutes in any corner of the city, then the police too ought to reach the distressed in even shorter time."
He added, "This was the turning point and we set 15 minutes as the benchmark for reaching any crime scene."
Different types of close circuit cameras were installed by the police to serve different purposes.
While as many as 170 fixed cameras were meant to cover certain major thoroughfares of the city, there were 70 pan-tilt zoom cameras at 70 key road junctions.
Almost an equal number of automatic number plate recognition cameras were installed at those very important crossings to track down vehicles violating traffic laws.
The three special drones being introduced in Lucknow's police surveillance system have different roles to play.
The most sophisticated one was an Octacopter with eight cameras to facilitate shooting of pictures from different angles at the same time, besides also capturing images of interiors of buildings.
It is also equipped with a special chamber containing pepper spray to disperse a mob.
In addition, there was a Hexacopter with six cameras and a Quaracopter with four cameras.
Besides, two custom-made special mobile surveillance vehicles were launched by the chief minister, who felt that "these would go a long way in ensuring multi-dimensional view of its surroundings."
With a view to enlarging the ambit of community policing, Akhilesh has nominated as many as 300 citizens as special police officers to create a bridge between the common public and the men in uniform, whose attitude towards the people would also be kept under watch.
The chief minister plans to replicate this modern surveillance system in at least half a dozen other cities over the next few months.