The Uttar Pradesh Shia Waqf Board has told all madrasas functioning from its properties to celebrate the Independence Day by chanting 'Bharat Mata Ki Jai' after the hoisting of the national flag and singing of the national anthem.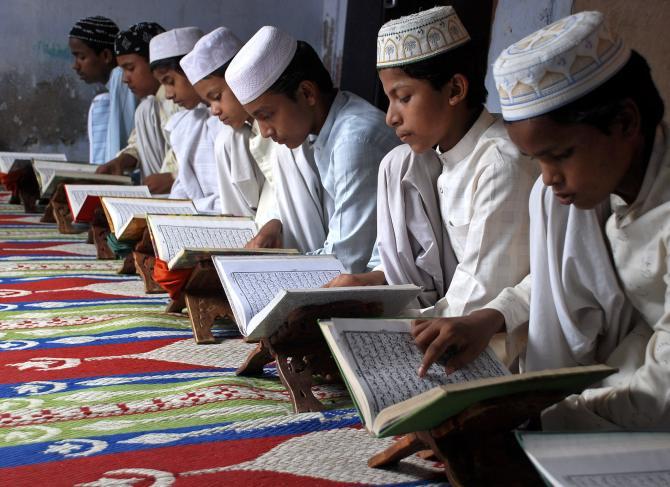 The state government has also issued orders on celebration of Independence Day at state madrasas.
"We have directed the madrasas running under the Shia Waqf Board to ensure 'Bharat Mata Ki Jai' is chanted by students after hoisting of the national flag and singing of the national anthem," Board Chairman Waseem Rizvi said.
The board warned of "strict action" against those not complying with the order.
Rizvi said there were over 1,500 madrasas and schools running on Waqf properties in the state which will have to abide by the directive.
Asked whether the Uttar Pradesh government had also issued any order making chanting of 'Bharat Mata ki Jai' mandatory for students in madrasas, UP minority welfare Laxmi Narayan Chaudhary avoided a direct reply.
"Jo Bharat varsh mein paida huaa hai usse to Bharat Mata ki jai bolni hi hai (A person born in India has to say Bharat Mata ki Jai)," he said.
"We have issued orders that on August 15, the tricolour will be hoisted, tributes will be paid to freedom fighters and martyrs, students will be told about their heroic deeds, and plantation of saplings will be done," the minister said.
"This is only a departmental order, and nothing more. This should in no way be seen as move to test the patriotism of Muslims," he said responding to a question.
He said August 15 is a national festival.
"On this day, there is hoisting of the national flag, tributes paid to martyrs and chanting of Bharat Mata ki Jai is natural. This is followed by all the departments. Since the minority welfare department is under me, hence the orders for the madrasas," Chaudhary told reporters.