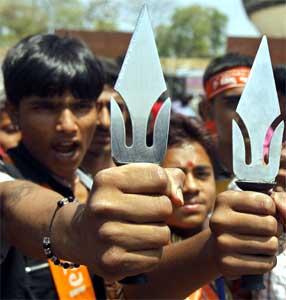 While the VHP did its best to put up a façade of staging what a 'sankalp diwas' (resolution day) -- essentially to reiterate the Hindutva brigade's resolve to build the much-debated Ram temple at the disputed Ram Janmbhoomi-Babri Masjid site in Ayodhya, the Samajwadi Party government made it a point to display how it left no stone unturned to thwart the VHP move.
But the 'fixing' became blatantly visible in the overdoing by the rival sides.
A huge deployment of police, which included some 200 troops of the Rapid Action Force remained on guard all over Ayodhya, even as the VHP failed to mobilise any formidable number of supporters.
At the end of the day, some 300 VHP activists were taken into custody by the police in Ayodhya, while about 1,100 were picked up or detained in other parts of the state. And that included VHP chief Ashok Singhal, who is more or less reduced to a 'paper-tiger', the saffron-clad Bharatiya Janata Party Member of Parliament from Gorakhpur Yogi Adityanath, among others.
Ayodhya's most prominent saint Mahant Nritya Gopaldas was kept under house arrest in his fortress-like seminary in the ancient temple town, while the smaller fries were booked for apprehension of breach of peace.
To prevent VHP activists from attending the rally, three-tier barriers were put up on Saryu Bidge, in Faizabad and Ayodhya,
As a precautionary measure, the local administration had also set up a temporary jail at the Police Lines. But evidently, all that was meant more for display rather than use.
Just as he was kept under detention in Lucknow before being deported back to New Delhi on August 28 last when the VHP raised the pitch in the name f taking out a '84-kosi parikrama' around Ayodhya, this time Singhal was picked up from his home in Allahabad. Yogi Adityanath was arrested in Gonda, when he was heading for Ayodhya.
Significantly, none of the VHP leaders could muster up an impressive following in support of their call for 'sankalp diwas'. In Ayodhya, where thousands of sadhus are visible at any given point of time, VHP was unable to mobilise even 100.
Of the 300 arrested, most were local youngsters, who could barely show any commitment or conviction for the cause for which they raised hackneyed slogans. Cries of "Ram Lalla hum aaye hain,; mandir wahin banaege", rented the air each time any of the VHP activists were taken into custody. However, none displayed any resistance or protest against the arrest.
Clearly, the cops far outnumbered the so-called demonstrators, in an obvious bid to prove that the government meant business and that it would not allow the VHP or any of the Hindutva brigade constituents to have their way. Sure enough, the message was loud and clear -- aimed at impressing upon Muslims that here was their true messiah in SP, without which they would be 'orphaned'. With two BJP members of Legislative Assembly already put behind bars for allegedly inciting the Muzaffarnagar communal violence, stringent action was likely to be initiated against more BJP leaders soon.
Perhaps SP chief Mulayam Singh Yadav and his chief minister son Akhilesh Yadav believe that is the only way to retrieve their badly eroded vote bank of Muslims, who were quite disillusioned with both father and son because of their failure to protect them during the Muzaffarnagar communal clashes in which nearly 60 lives were lost.
Meanwhile, the Centre has asked the UP government to maintain the status quo in Ayodha and prevent any attempt to incite communal tension anywhere in the state.